Automation tools can help your small business cut costs, save time, and scale sustainably. If you're looking to free your team from mundane tasks, and help them focus on high-impact work, then automation tools are an excellent investment.
Since there are endless great tools to choose from, it's easy to get overwhelmed. So to help you out, we've compiled a list of 13 automation tools for small businesses that are loved by modest-sized teams.
What automation tools should small businesses consider?
The short answer is: whichever tools can help you improve your team's productivity.
Nowadays, the market for automation tools is packed full of useful apps. You can take your pick from simple text expanders to full-fledged workflow automation tools.
So before you decide which tools to include in your tech stack, first consider your team's specific needs. In fact, consult your team members and ask about which repetitive tasks they'd like to see gone. You can then confidently invest in the right automation tools for your small business.
🎓 CAFLOU® academy is brought to you by CAFLOU® - 100% digital business management software
The 13 best automation tools for small businesses
We've sorted some of the most popular options into different categories to help you find the right automation tools for your small business.
Business process automation (workflow automation) tools
Workflow automation tools, also known as business process automation tools, let you automate key business processes end-to-end. These tools typically offer a wide variety of automations and are not niche-specific.
1. Zapier
Free plan/trial? Yes. Zapier has a free plan with limited automations.
Zapier is one of the most recognised automation tools for small-to-medium-sized businesses. The tool lets you automate repetitive tasks across different software, by integrating your apps and creating automations for your workflow. Zapier supports integrations with more than 3000 apps, from popular tools like Slack and Notion to more obscure, niche ones.
Zapier is an excellent option if you need full-fledged workflow automation. But, the higher tiers are quite expensive, so if you have simple automation needs, it's not the best choice.
This brings us to Zapier's more affordable alternative…
2. Make
Free plan/trial? Yes. Make has a free plan with more generous limits than Zapier's free tier.
Make is a direct Zapier alternative; it too relies on integrations to automate your workflow. Make is more affordable than Zapier, but it has one key drawback; Make only supports 1000+ integrations vs Zapier's 3000+. However, Make still supports the most popular apps, so it's usually sufficient for small business needs.
Many users also prefer Make's visual builder to Zapier's drop-down one, and Make's free plan is more generous, too.
3. CAFLOU
Free plan/trial? Yes. CAFLOU's Turtle plan lets you try our platform out for free.
Yes, this is us - If this is your first time on our website, hello! We're CAFLOU - a complete business process management (BPM) solution for SMBs like yours. Our software helps you improve productivity by organising your activities, streamlining your workflow, and implementing native automations.
CAFLOU's automation capabilities include:
A workflow engine, to help you automate actions in response to conditions, e.g. to automatically delegated tasks or process invoices.
A recurring objects feature, which as the name suggests, initiates actions at a given frequency. So you can create projects, tasks, income and expenses (to plan your cash flow) or invoices at set intervals.
The advantage of using an integrated business management system like CAFLOU is that you can automate crucial workflows within your existing business management software. Moreover, CAFLOU's automations are relatively easy to implement, since they're designed specifically for our platform.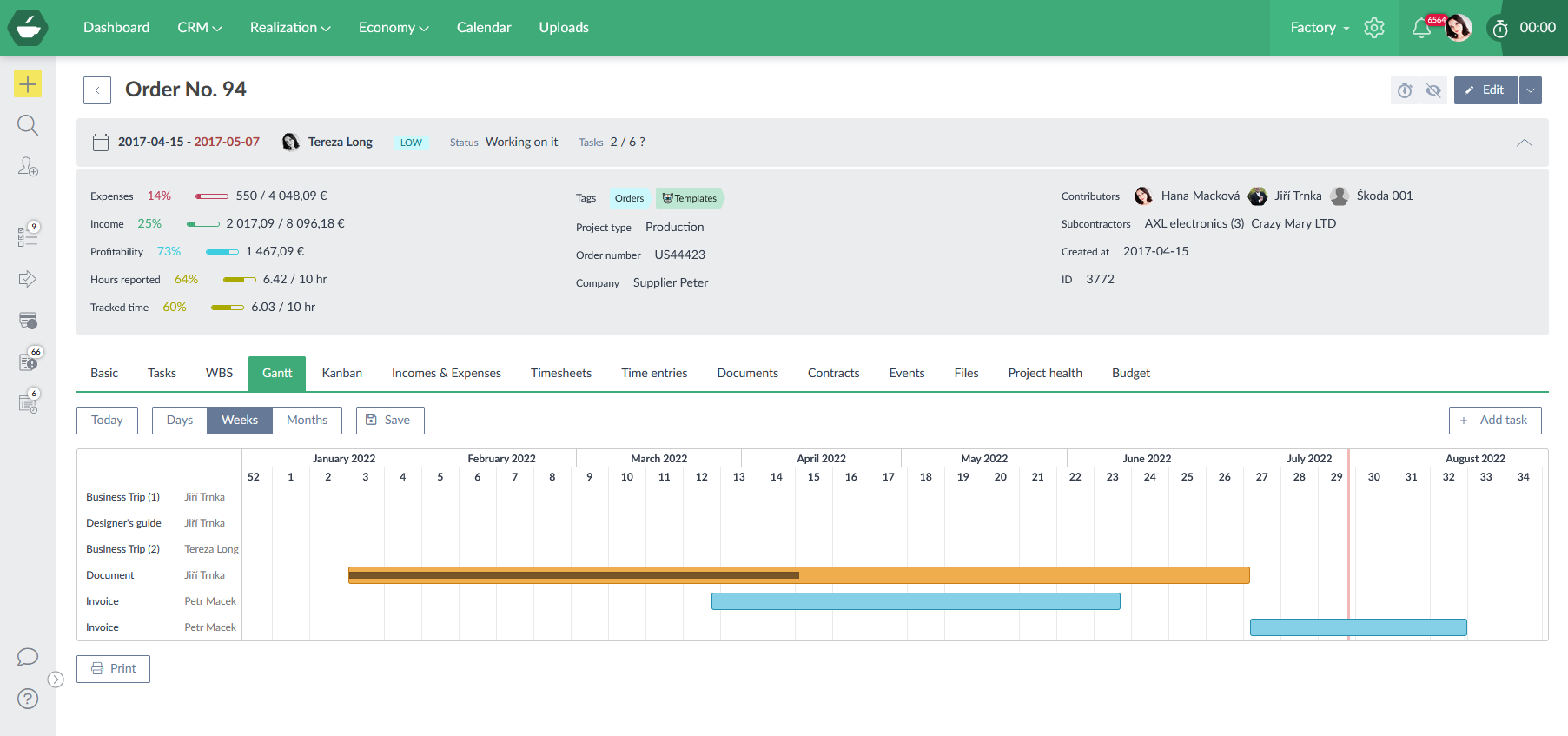 Email automation tools
Email automation helps businesses deliver better customer experiences by engaging with customers at key moments, such as when they first sign up, or when you're launching a new campaign, etc.
And while there are many powerful email automation tools, we'll take a look at some of the more affordable options that are ideal for small business needs.
4. Sendinblue
Free plan/trial? Yes. Sandinblue has a free plan with basic automation features.
Sendinblue is a mature email marketing automation tool with a generous free plan. Sendinblue comes with a suite of powerful features, including heat map reporting, advanced statistics, automation, personalization features, a landing page builder, and much more.
To unlock some of these features, you'll need to purchase their Premium plan, which starts at $65/month. However, the Lite plan (starting at $25/month) can be sufficient for your needs.
5. MailChimp
Free plan/trial? Yes. MailChimp has a free plan with generous limits.
MailChimp is one of the most recognised names in the email marketing space and a great alternative to Sendinblue. MailChimp's free plan offers more generous limits, but they don't offer marketing automation in their free tier, unlike Sendinblue.
However, MailChimp's paid plans are typically more affordable than Sendinblue's, depending on the number of your contacts. MailChimp's paid plans also have many robust features, including behavioural targeting, dynamic content, surveys, and more.
Social media automation tools
Social media automation tools can help you schedule your posts and comments, respond to user engagement, and streamline your workflow to help you focus on publishing. Here are some of the best choices for small businesses.
6. Buffer
Free plan/trial? Yes. Buffer has a free plan.
Buffer is an affordable social media management suite with an exceptional range of features, including automations. With Buffer, you can:
Build your content calendar and schedule posts in advance,
Schedule first comments,
Automate link shortening,
Generate automatic cover pages for your reports,
Automate your multichannel reporting.
And more. Buffer's free plan lets you connect up to 3 social accounts to kickstart your social media management, and when you're ready to scale, you can subscribe to one of their paid plans. Their Essentials plan starts at just $5/month per social account.
7. Hootsuite
Free plan/trial? Yes. HootSuite lets you try their Professional and Team plans out with their 30-day free trial.
Hootsuite is a more high-end social media management and automation tool, with plans starting at $49/month. In the market of social media management tools, Hootsuite is the gold standard. So, the software supports a wider variety of platforms - including support for WordPress and YouTube, and it offers more advanced features at each tier.
Hootsuite's automations are more advanced than Buffer's, too. For example, their Autoschedule feature gives Hootsuite complete control over your posting - the tool will pick the best time and will proceed to publish your post.
Finance & accounting automation tools
Automating financing and accounting processes not only saves time but also reduces inaccuracies by eliminating human error. Accounting has many repetitive tasks that you can automate, and here are some automation tools to help you out.
8. Quickbooks
Free plan/trial? Yes. Quickbooks offers a 30-day free trial for each plan.
Quickbooks is the most established accounting software for small businesses, with plans starting at $25/month. The platform comes with every accounting feature a small business could possibly need, from simple cash flow management to mileage tracking, bill management, and workflow automation.
Quickbooks' workflow automation features let you automate repetitive accounting tasks, but you'll need to subscribe to the "Advanced" plan ($180/mo). So unless you use Quickbooks as a dedicated accounting solution, paying to access these automation features may not be feasible.
9. CAFLOU (cash flow and automation features)
Oh hello, we're back…yes, we pitched CAFLOU before, but for workflow automation. Our tool's BPM features extend to invoicing automation and cash flow management. So, for example, you can plan your cash flow by creating recurring expenses or invoices (never forget to bill a client again!).
You can also link CAFLOU to any European bank, and we'll help you monitor your cash flow. We'll even send you automatic reminders about late payments to help you keep on top of your cash flow management.
P.S. We haven't locked our automation features behind pricey higher tiers. You can start using CAFLOU's automation features even at our free plan or the lowest premium plan, starting at just 10€/month.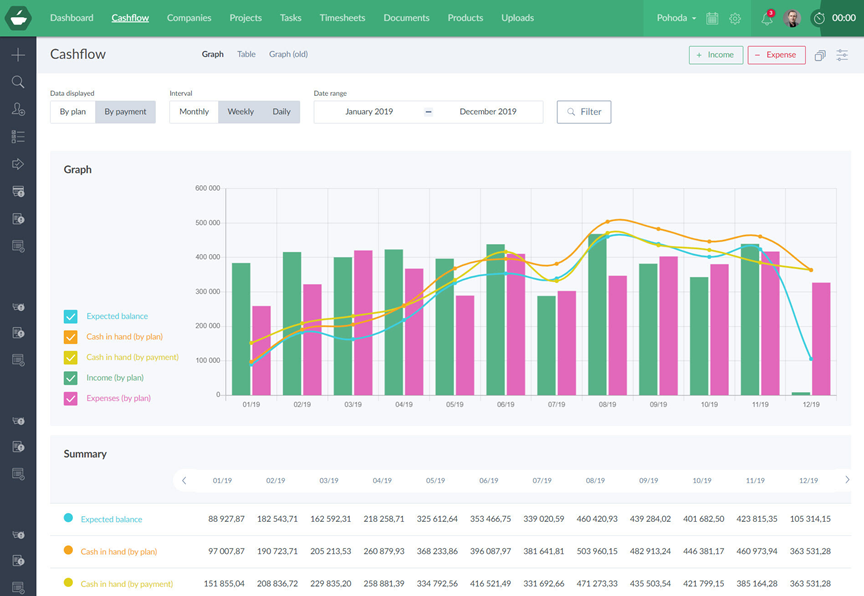 Customer support automation tools
You can take your pick from various different tools to automate your small business's customer support; anything from ticketing software to chatbots, helpdesk tools, and live chat software can help you enhance your support offering.
Here are some of our favourite picks.
10. Intercom
Free plan/trial? Yes. Intercom offers a limited 14-day free trial.
Intercom is a recognised customer relationship platform that offers a suite of customer support tools, including chatbots, live chat, and a help desk. Their chatbots are:
Task bots - which will take over your conversations if there is no assigned teammate.
Resolution bot - which interprets questions using keyword recognition and replies to them automatically
Custom bot - which lets you create custom bots using elements and a block builder
Intercom's simple plan for small businesses starts at $74/month, when billed annually. It gets you live chat functionality, but you'll need to upgrade to higher plans for automation features and access to chatbots.
11. Chatfuel
Free plan/trial? Yes. Chatfuel offers a free plan.
Chatfuel is an excellent chatbot solution for small businesses. Their free plan gives you a good feel of the tool, although it's very limited. And when you're ready to commit, the pro plan starts at $15/month (the cost increases depending on the number of users).
Chatfuel's pricing isn't its only draw for small businesses; its simplicity is also a plus. The software's visual builder makes it easy to create flow-based chatbots, and they have a library of existing templates if you're falling short on inspiration.
The white-label feature, exclusive to the Premium plan, makes Chatfuel a good choice for growing agencies or IT service companies,too. You can create custom chatbots and sell them to clients under your own label.
Lead generation automation tools
Many automation tools can help you with lead generation - from scraping software to chatbots and email marketing solutions. So before you consider investing in a tool for lead generation, carefully consider how you plan to acquire leads and which software is best for achieving your goals.
12. Phantombuster
Free plan/trial? Yes. Phantombuster offers a limited 14-day free trial.
Phantombuster is a powerful automation tool that excels at lead generation. With a focus on social media platforms, Phantombuster automates finding and scraping information about your prospects. For example, you can deploy one of their "Phantoms" to scrape your competitor's Twitter followers and compile their details in a spreadsheet.
The software's 'Phantoms' are pre-existing automations that you can find in Phantombuster's library. You can also create your own automations, and combine Phantoms, using their comprehensive automation flow builder.
13. LinkedIn Helper
Free plan/trial? Yes. LinkedIn Helper offers a limited 14-day free trial.
LinkedIn Helper's name gives the plot away - it's a lead generation tool that helps you streamline and automate your LinkedIn prospecting. The tool is also very affordable, with the Standard plan starting at just $15/month. Also, you can get additional discounts by subscribing for a longer duration - e.g. six months gets you 33% off.
The platform works with LinkedIn's Sales Navigator to help you perform targeted outreach, by sending personalised invites at scale, implementing auto-responders, and gathering lead information (which you can export to CSV).
Some other great mentions
Because of the sheer number of automation tools, our list is not exhaustive. We've covered some popular tools to help you with your small business automation, but there are many more worth considering, too.
Here are some other worthy mentions that you can look into:
14. Calendly - booking automation. Calendly makes it easy for clients or customers to book meetings with you. Your Calendly link updates your availability in real-time and lets external parties choose a time that fits your schedule.

15. Freshdesk - a Helpdesk automation tool. Freshdesk is an excellent helpdesk tool with a full suite of advanced customer support tools. The platform also supports robust automations, but it gets expensive, which is why we didn't spotlight it.

16. IFTTT - a task automation tool. If This Then That (IFTTT) is like Zapier/Make, except for personal use rather than business needs. It also comes with a mobile app, so you can automate repetitive tasks on your phone, too.

17. Airtable - for automating your project management. Airtable describes itself as a "low-code platform for building collaborative apps". The tool can help you manage and automation important, multi-stage workflows, such as content management.

18. ContentStudio - for automating content management. ContentStudio is a great alternative to Hootsuite and Buffer with a different offering. While ContentStudio includes social media management and automation features, the tool also offers content discovery features and lets you integrate with Medium or WordPress to streamline blog publishing.
The advantages of choosing an integrated automation solution
If you have multiple automation needs that are met by a single automation tool, choosing an integrated solution can be ideal. An integrated solution can help you streamline your workflow and keep costs down.
So if you need a full suite of features for business management, CAFLOU can help you out. Our solution helps you manage every essential small business process, from CRM, task management and work delegation to cash flow management and billings.
We built CAFLOU with small businesses in mind, so our pricing plans are flexible, and we don't lock essential features behind a paywall. And if you have more robust automation needs, CAFLOU supports integrations with Make, fulfilling even the most complex workflow automation needs.
If you're not sure if CAFLOU is right for your small business needs, you can try our free Turtle plan out to take CAFLOU for a test drive.

<< Back to all articles in Caflou Business Management Academy