As part of contract management (see How to register contracts in Caflou 📺) you can now
send contracts for digital signature directly from Caflou via e-mail to partners, customers, employees or suppliers (alternative "Sign digitally (by e-mail)")
sign the contract directly in Caflou without having to send it to be signed by e-mail (alternative "Sign here and now")
Alternative "Sign digitally (by e-mail)"
You will use this option when it makes sense to send the contract for their signature to all the signatory parties by e-mail.
📺 See how to work with the digital signing of contracts as part of contract management:
Alternative "Sign here and now"
You will use this option in the event that you can sign the contract on the spot (e.g. with the customer at their home) or it cannot be sent by e-mail (e.g. the signer does not have an e-mail). You can also sign the contract on a mobile phone or tablet.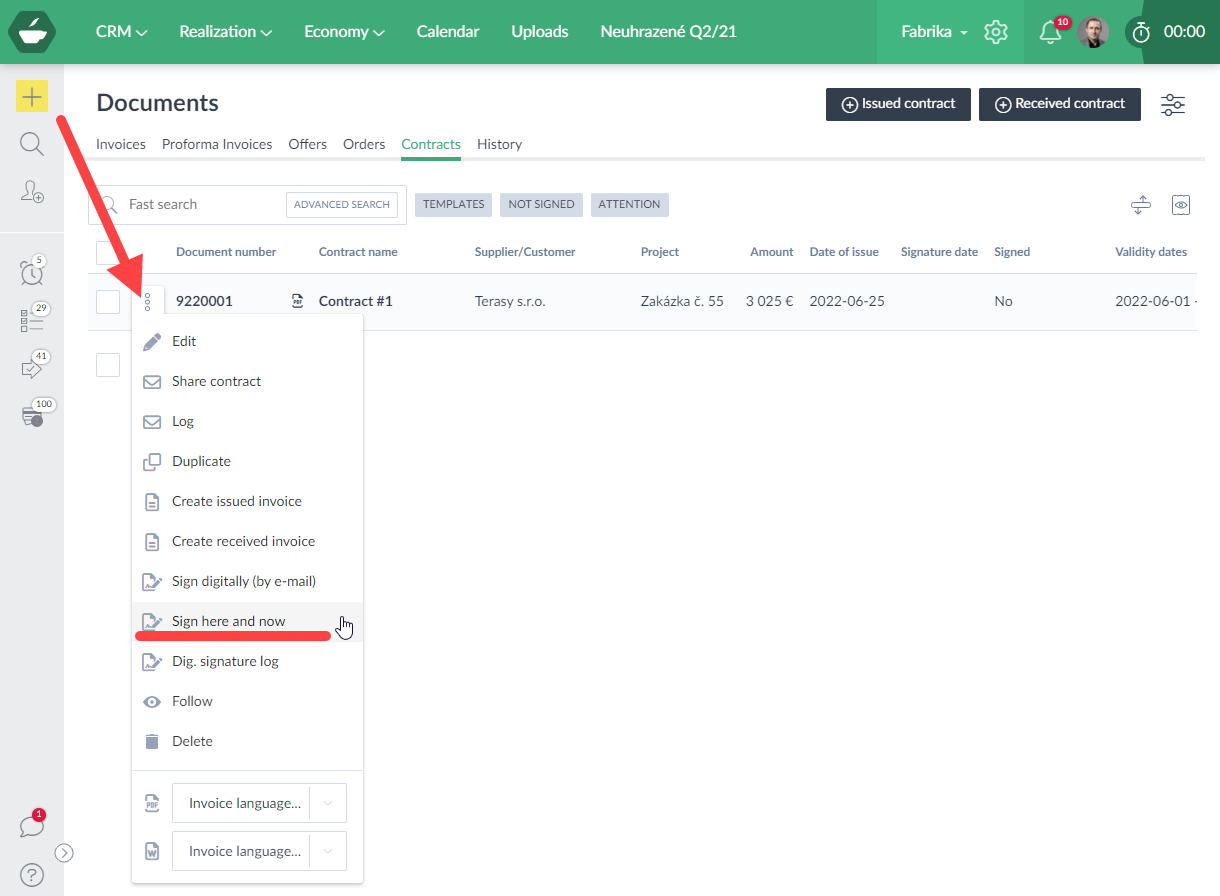 💡 Tip: The contract being signed can be revoked at any time (e.g. if the content of the contract needs to be changed). Contract that is actively being signed can be revoked in the Digital Signature Log, just click on the cross at the right side. A reason can be given for the revocation, which is then emailed to all the recipients.
Additional information
We use Zoho Sign technology for digitally signing contracts. (no registration in this service is necessary on your part, you do not need to acquire a license, etc.)
For each contract sent for signature, we will deduct 1 EUR/1 USD/20 CZK from the credit (depending on the currency in which your Caflou account is set).
The signed contract is stored in Caflou, all signatories also receive it automatically by email as soon as the contract is signed by all signatories.
Digital signature and law
Digital signatures are legally binding and hold the same value as handwritten signatures for most business and personal transactions across the globe. Contracts signed with Zoho Sign meet the requirements of the ESIGN Act in the United States and eIDAS in the European Union (electronic IDentification, Authentication and Trust Services), in addition to other national laws.
However see the Legality Guide provided by Zoho Sign to see whether digital signatures are valid in your country: Legality Guide by Zoho Sign