Irrespective of the size of your organization, managing your business can be a stressful and demanding activity. This is particularly so if you're trying to do it by yourself, without relying on the right management tools that can make your life much easier.
🎓 CAFLOU® academy is brought to you by CAFLOU® - 100% digital business management software
It's established that more than half of small business owners work six or seven days a week, and 62 % devote more than 50 hours weekly to their companies. Just think of coordinating and organizing all day-to-day operations, leading your teams, planning your projects, managing cash flows, staffing, and allocating tasks and resources. The list is endless. And all the while, you're striving to market your products and services, exchanging messages and phone calls with your existing and potential customers.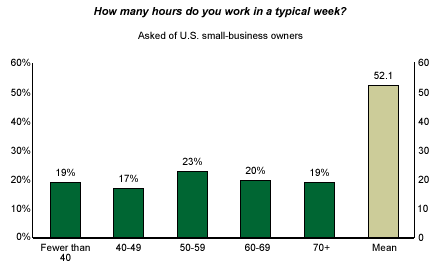 How can you take part of the tedious tasks off your shoulders? Implementing the proper technology can be the answer to your needs. This is the solution an increasing number of businesses opt for. McKinsey & Company's 2020 global survey found that 66 % of organizations across various industries either were piloting or had already adopted automation of at least one of their business processes.
If you want to take advantage of the state-of-the-art technology, knowing the viable options and their major capabilities will help you select the solution that best suits your requirements. In this article, we've compiled a list of ten fundamental business management tools that can streamline your operations and boost your efficiency. To help you select the best option for your small business management, we'll also discuss the pros and cons of using a combination of individual tools and a unified solution, such as Caflou, that concentrates multiple business management functions on an all-in-one platform.
First things first.
What is business management software?
You can think of business management software as an application that helps organizations improve their processes by automating the execution of routine tasks and functions. Such tools are designed to free company owners and managers from time-consuming low-value activities. They enhance various aspects of business operations – from time tracking to managing workflows and customer relations, to invoicing and reporting.
Why should you invest in management tools for your small business?
Benefits of implementing management tools for small businesses
Modern solutions can bring multiple advantages to your company:
Dedicated software can save you time, allowing you to concentrate on tasks that are directly connected to driving your business forward.

Management tools can save you money. These savings can be expressed in:

Better customer service and retention through utilizing CRM tools
Identifying more profitable ways of investing by gaining insights into your cash flows with cashflow management solutions
Avoiding costly errors and loss of information with document management tools
Increasing productivity by letting you and your team focus better on the current activities without forgetting or missing the forthcoming ones with scheduling and time tracking solutions


Digital management tools are in line with the new business trends of limited in-person interactions and a remote mode of operation. They help businesses address health concerns and maintain regulatory compliance.
Now that you know the name of the game, let's take a closer look at the essential solutions you can easily adopt in your operations.
Top 10 management tools for small businesses
1. Project Management Tools
Project management software is a great option if you're juggling multiple tasks at a time.
Such tools can automatically generate and send reminders for upcoming tasks and events, keeping everyone updated on everything on the project agenda including details such as the time, the place, and the budget of the event.
Trello is our top favorite in this category. This user-friendly tool improves team collaboration and efficiency by providing boards, lists, and cards.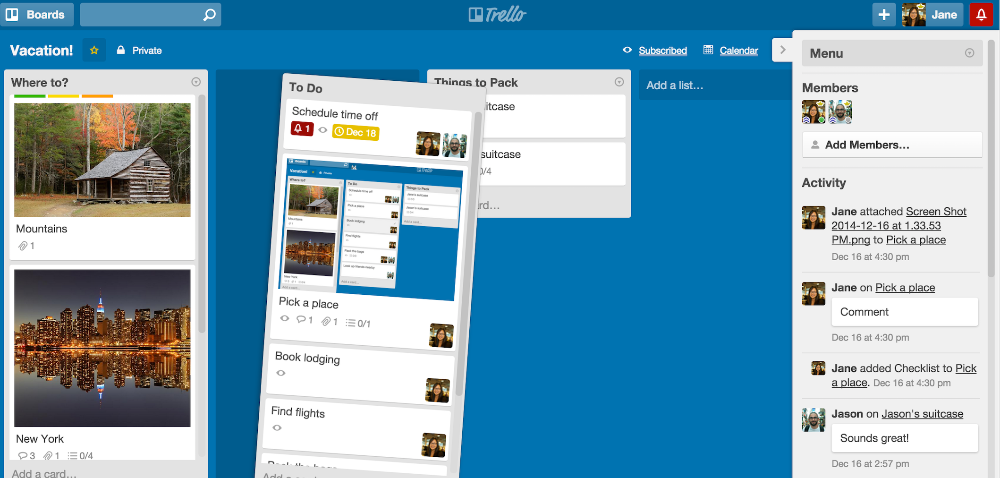 Trello enables clear visualization of project organization, task assigning, and budget planning using customizable templates. It ensures transparent workflows across the company and easy progress tracking.
Asana and Basecamp are other examples of project management tools you may also want to look at.
2. CRM software
Customer relationship management is an important business tool providing small businesses with a central hub to manage and measure performance at all touchpoints of the customer journey. You can keep track of who is visiting your website and receiving, opening, and reading your emails. Implementing a good CRM solution will also help you keep your customer information organized and easily accessible to other platforms through extensive integration capabilities.
The deal-driven CRM tool Pipedrive features an intuitive interface and call and email synchronization.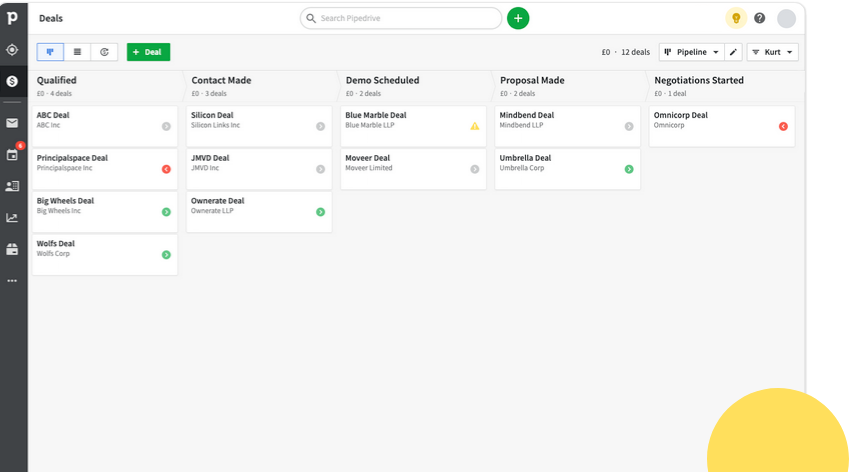 This easy-to-use and attractive option for small businesses comes with a mobile application and readily integrates with other solutions.
Other viable options in this category are Pipelinecrm and Salesforce.
3. Workplace communication software
As your business grows, you need modern digital communication tools to enable your team to stay in touch through chatting and file sharing. You can use an instant messaging tool, such as Slack, Skype, Whatsapp, Viber, or Facebook Messenger to communicate instantly exchanging text, images, videos, files, or web links with other people within your company. Video conferencing is another option to facilitate workplace communication, particularly relevant to remote work arrangements. It's an effective substitute for face-to-face meetings and helps you keep your team on the same page.
Microsoft Teams is a great platform that connects coworkers. Along with its primary real-time video conversations, it offers data and screen sharing functionalities and allows great customization.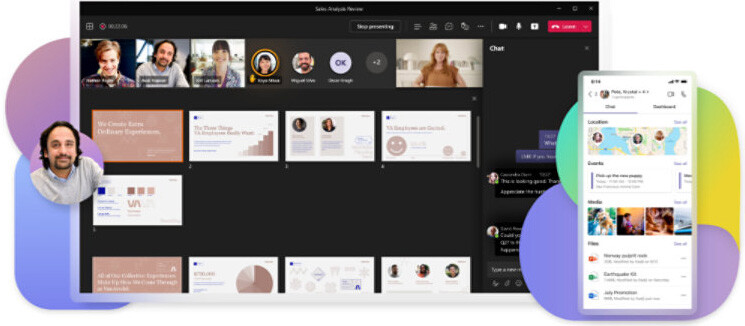 The tool comes with recording capability and multiple integration options.
Google Meet and Zoom are video conferencing solutions that also come with a promising range of functionalities.
4. HR Software
As a small business owner managing fewer employees, you may be considering an HR solution as a redundant investment. Regardless of the number of your team, you still have to handle HR duties that can eat into your productivity and time. HR software is the ideal tool to streamline the recruitment and hiring process and facilitate employee onboarding, training, and benefits.
SnapHRM offers basic HR features that allow you to manage your team, such as an employee database, payroll management, attendance tracking, and days-off management.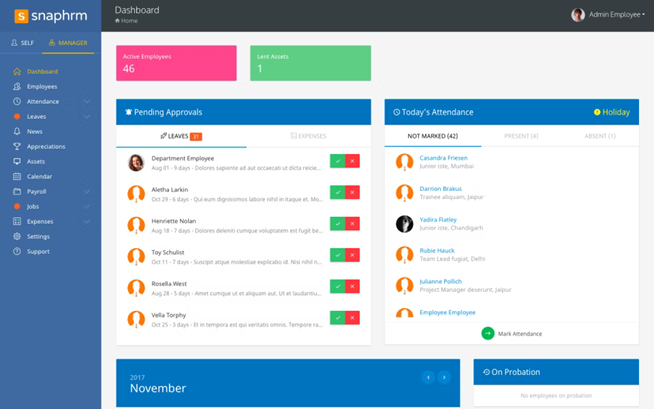 You can also create job postings and share them on dedicated platforms to reach more prospective candidates. SnapHRM is free for businesses with less than five employees, which makes it particularly relevant to small companies.
Other examples of HR software suited for small businesses are Freshteam and Eddy.
5. Workforce management
You can rely on such tools to handle your team's future workload planning and shift scheduling depending on their capacity. You can also look at historical data of your employees' performance and implement it to optimize your workforce. Workforce management tools can provide economical insights into your team's efficiency by relating how much they cost to what organization's profit they make.
Skedulo is an example of an application that offers a clean, real-time interface to facilitate managing complex schedules.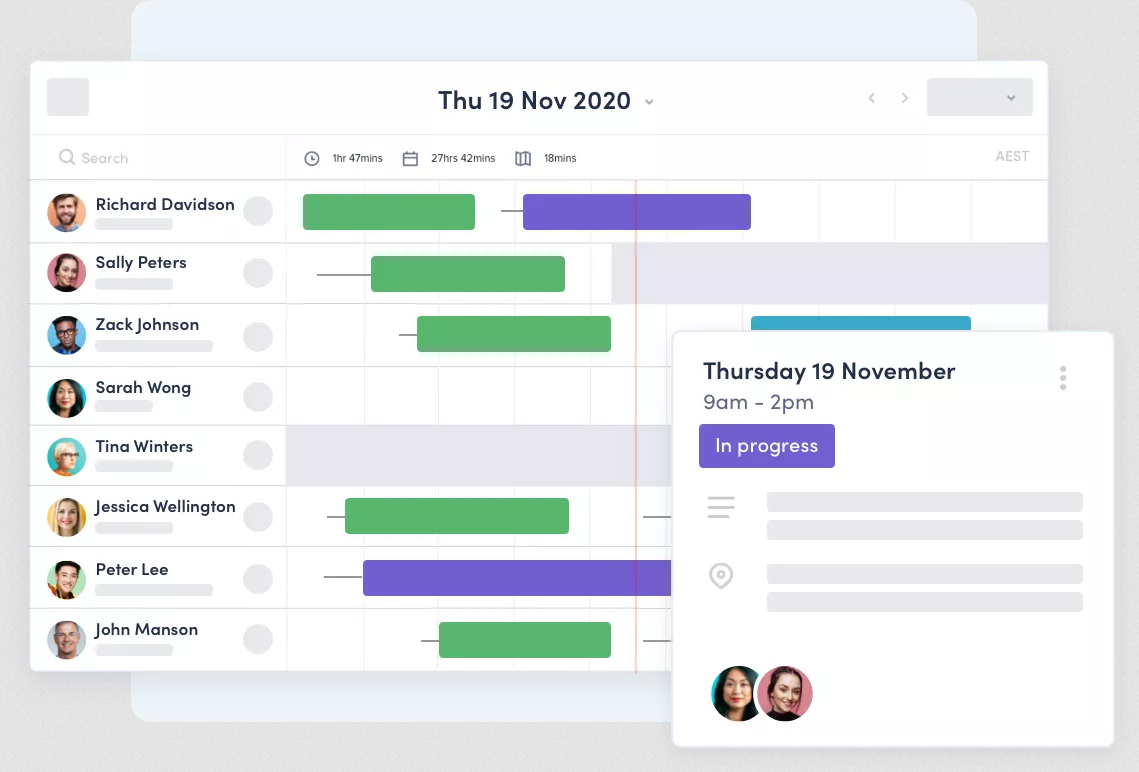 This workforce management software comes with a mobile application enabling your deskless employees to see task details and schedule updates.
Among the small business workforce management options that are worth considering are Planday and When I Work.
6. Work reporting tools
A reporting tool provides information on work done or time spent on a particular task by an employee. It allows you to determine your team's productivity and efficiency.
Toggl, for example, has a tracking feature and provides valuable insights into your workforce performance.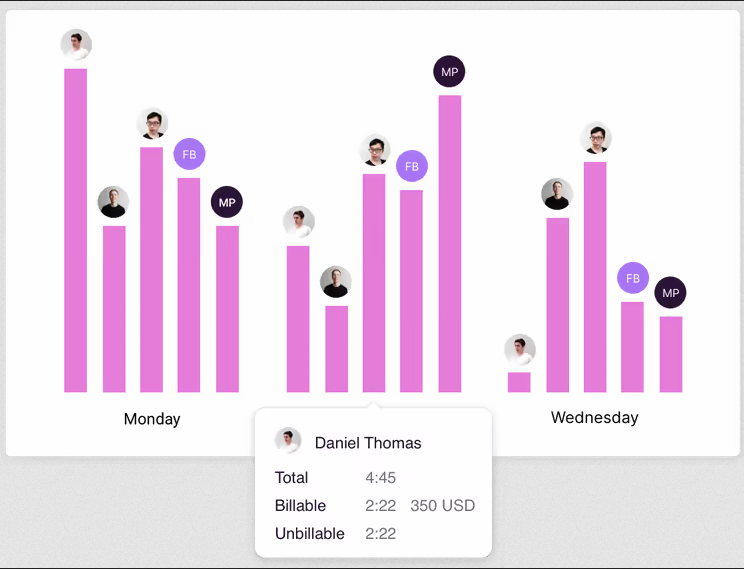 Toggl provides a big picture view in one intuitive dashboard, improving transparency and accountability.
You can also take a look at ClicData and GROW that offer reporting and analytics for small businesses.
7. Cashflow software
Cashflow management software is designed to help businesses manage the flow of incoming and outgoing funds. It helps you keep a positive cash flow and provides data-based future cashflow forecasts.
CashAnalytics automates administrative tasks and optimizes cash and liquidity forecasting.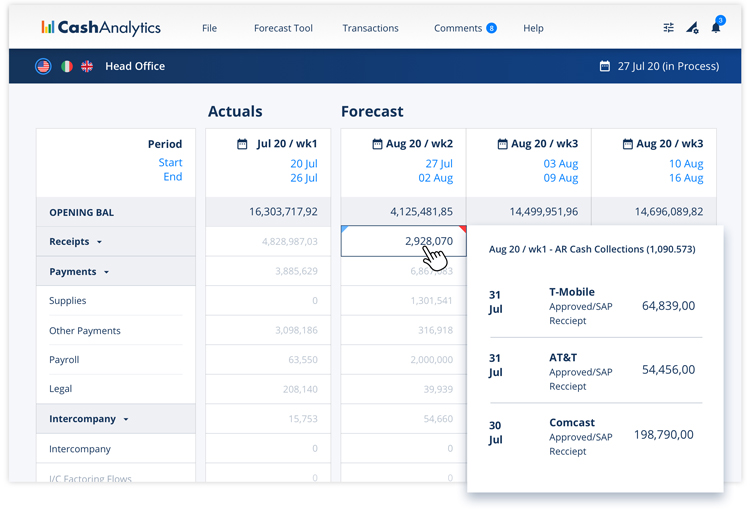 CashAnalytics offers customizable reporting of real-time cash flows to meet businesses' specific requirements.
Pulse and Float are two of the other suitable alternatives for small business cashflow management tools.
8. Invoicing software
Invoicing tools produce billing for services and products and provide historical insights into your finances. Such solutions usually come with customizable templates that simplify invoice generation.
The Web-based tool Invoice Simple is a viable, easy-to-use option for small businesses. It's designed to produce invoices based on estimates and add details like shipping details, due date, and applicable discounts.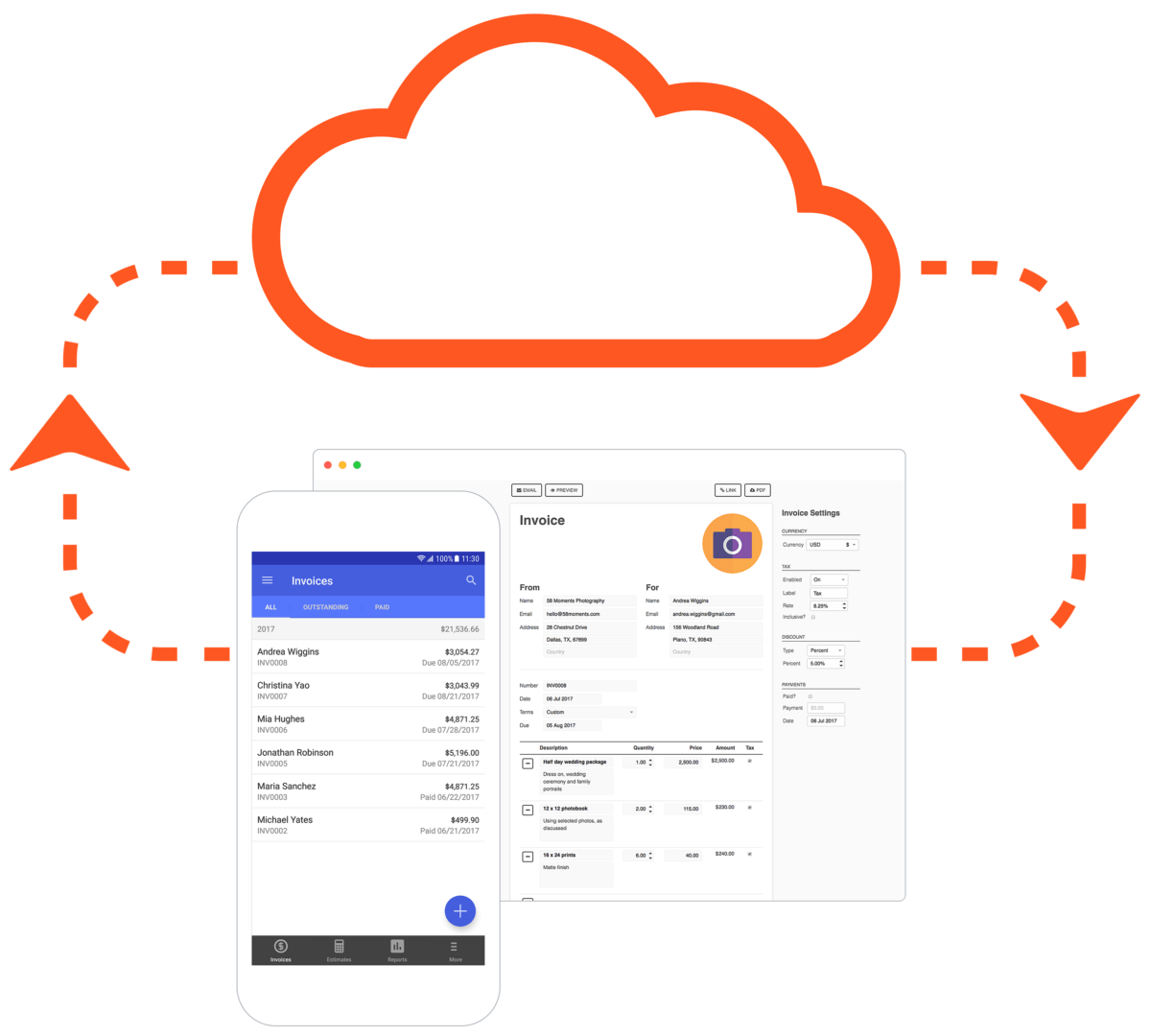 Invoice Simple comes with a mobile app that lets you handle your invoicing on the go. The solution helps you transition to a paperless office.
Other options you can consider are Aynax and Blinksale, which offer easy and customizable invoicing.
9. Document management tools
They're designed to store, manage, and track electronic documents securely and allow also for collaboration.
Google Drive is an excellent choice for small businesses. It provides 15GB of free cloud storage and streamlines file sharing and collaboration.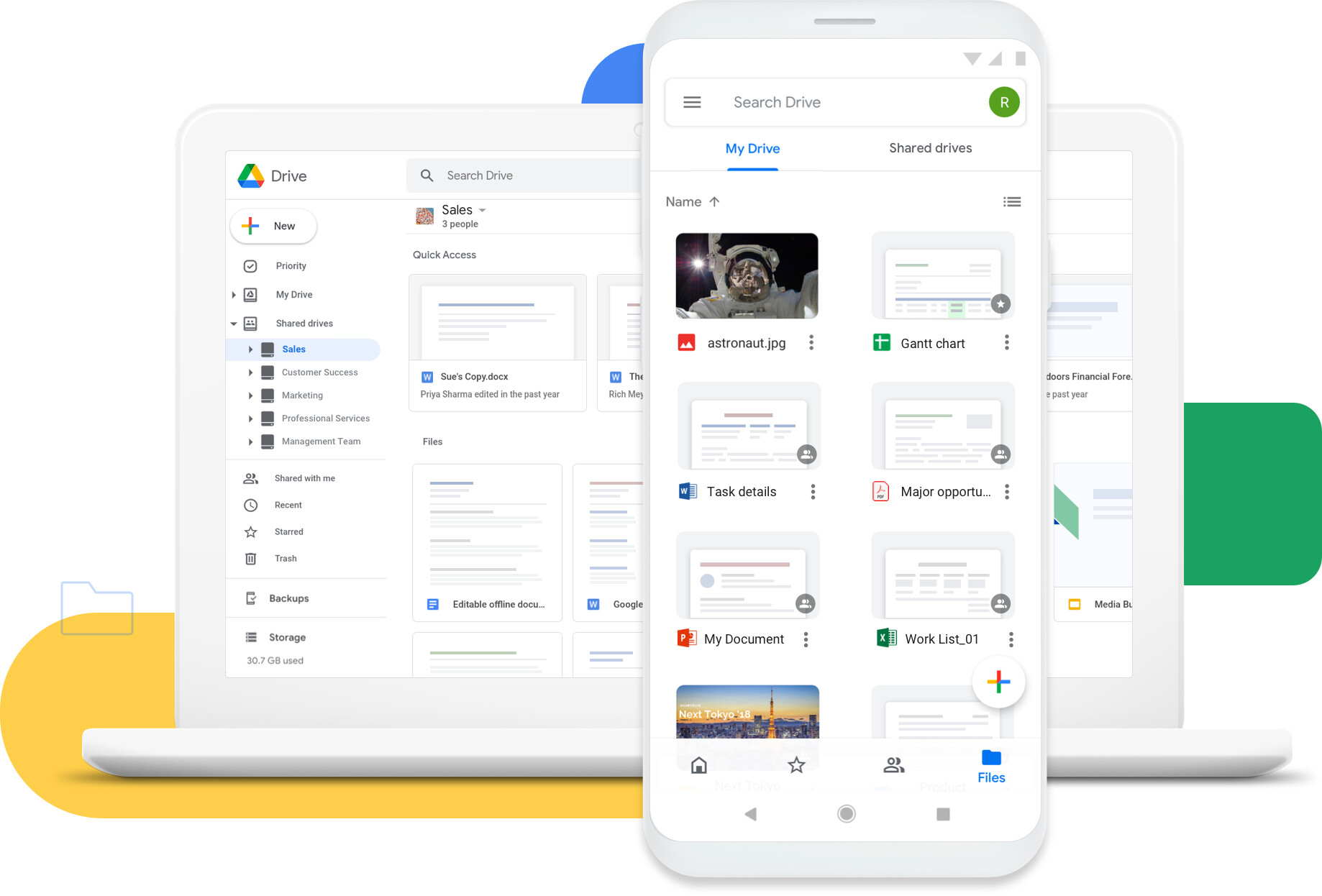 The solution offers enhanced security and built-in protections against malware, spam, and ransomware.
Other attractive alternatives are Dropbox and SmartVault offering seamless cloud-based document storage and sharing.
10. Calendar
Implementing calendar software can result in optimizing your time.
Appointy automates appointment booking, improves staff scheduling, and enhances client management.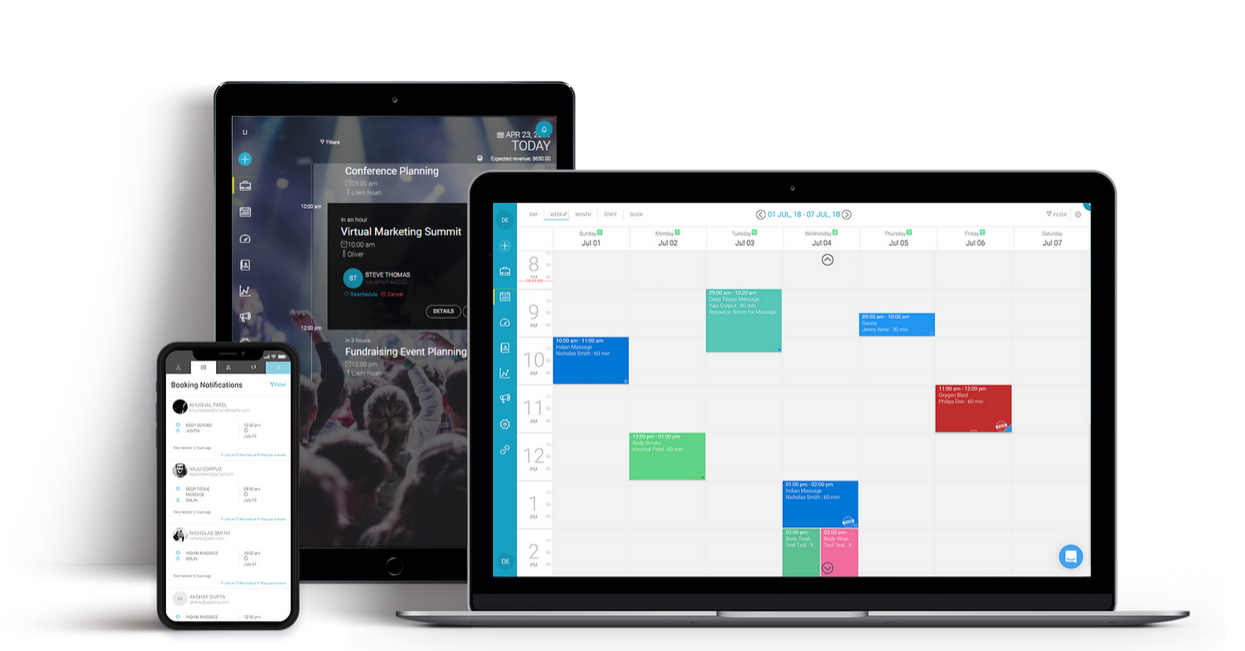 It's best suited for industries like healthcare and wellness, retail, education, and IT. The tool allows you to manage appointments, automatically send reminders, and accept bookings from social media and online prepayments. It easily integrates and synchronizes with Google calendar.
Alternatives you can also look at are Calendar and Teamup.
Selecting the best small business management solution
Should you choose a combination of individual tools or an all-in-one management platform? Let's take a look at the pros and cons of both worlds and weigh them up.
Utilizing a combination of individual tools
You can opt for using different tools for your different needs. For example, you can combine Trello, Slack, and Google Drive and let your team collaborate and communicate efficiently, while you manage cash flows with CashAnalytics and utilize Invoice Simple for invoicing. What benefits and drawbacks does this approach have for your business?
Pros
In case of the inoperability of any of the individual apps, you can rely on the other solutions.
You can choose the most effective option for each category.
Compared to operating with an end-to-end system, it's easier to substitute one tool out of many if needed or if you decide to change your vendor.
Cons
Utilizing an individual tool for each function may accumulate extra costs.
There may be compatibility and integration issues.
Using individual tools may involve switching between the different apps leading to time-consuming operations.
It possibly introduces the risk of data discrepancies.
It involves different solutions with different interfaces and principles of operation, which means that you and your team will have to learn how to use each of them.
Adopting multiple individual small business management tools involves potential security issues as each system has a different approach, which makes it too difficult to manage.
Implementing an all-in-one business management platform to take over all functions
On the other hand, you can opt for an end-to-end platform that caters to all your business management functions. Caflou is an example of such a full-fledged system that combines various functionalities for managing processes and projects, workflows, cashflows, CRM, invoicing, communication, and more.

Adopting such a unified platform offers multiple advantages to your business management:
Pros
It saves money. Paying a predetermined monthly rate for a single platform allows you to spend less on various other disconnected software solutions.
It increases productivity. You and your team spend less time manually entering, checking, and duplicating data sets.
Implementing an all-in-one solution enhances security and threat prevention.
It offers scalability. You can upgrade your account by adding new features as your business grows.
A single end-to-end system provides streamlined operation and eliminates compatibility and integration issues.
Using a unified interface means you won't need to learn and adapt to various approaches and user interfaces.
Cons
Adoption could take longer as it has to take over or integrate with legacy software.
Modern solutions, however, come with a lot of integration capabilities to ensure seamless integration with other systems. Caflou, for instance, readily integrates with Google Calendar, Quickbooks, Xero, Zoho Books, and FreshBooks. It can also be used via an API or through services such as Integromat / Make and Zapier.

Business management tools will let you work smarter, not harder. Implementing technology is an effective strategy to relieve yourself and your team from repetitive non-essential tasks. So, you can invest your time and energy in coming up with fresh business ideas, putting them into practice, and propelling your company. All you have to do is identify the best fit for your needs and let it handle the low-value jobs. It's time you started working on your business instead of working in your business.
<< Back to all articles in Caflou Business Management Academy