Although there is some overlap between the functionalities of business management and project management software, the two types of solutions differ considerably in their purpose, features, and use cases. To help you distinguish between them and select the best tool to match your needs, we've provided a brief and clear comparison and review of their benefits, functionalities, and applications. You'll also find examples of the best solutions designed to streamline business and project management.
Let's get started with some impressive background industry hints and small business management trends.
The past three years have seen dramatic acceleration and expansion of digitization, digitalization, and digital transformation. In fact, once-disruptive technologies, such as analytics, cloud, and digital experiences, have become a fundamental part of business strategy. As of 2021, nearly 85% of small businesses had invested in SaaS and adopted an average of between twenty-five and fifty software solutions.
🎓 CAFLOU® academy is brought to you by CAFLOU® - 100% digital business management software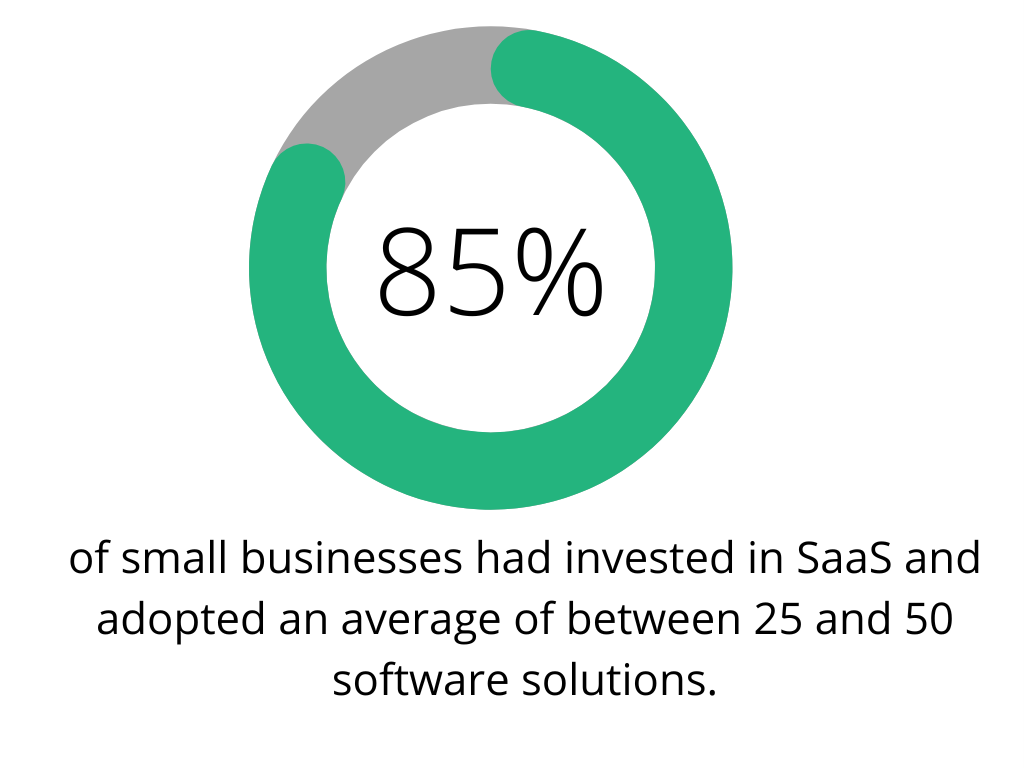 Research indicates that both the business management software market and the project management software market are growing at a compound annual growth rate (CAGR) of about 10%. Obviously, organizations globally tend to opt for such solutions to streamline their operations. If you haven't invested in software for business yet, the time to join the powerful modern trend may be now.
How can you select which business software will work best for your needs? Let's look closely at each of them.
What is business management software?
Business management software is a solution designed to streamline and manage an extensive range of aspects and processes of business operations. This comes as an end-to-end, all-in-one solution that links all business processes, bringing together process management, project management, marketing, sales, and customer support through a centralized database.
Benefits of implementing business management software
Business management solutions come with multiple benefits that help small businesses avoid common management mistakes and stay competitive in the dynamic modern landscape. Here are some of the advantages you can gain by implementing such a system:
Better organization and systematization of business operations and processes
Business management software streamlines multiple processes and operations in an organization – from hiring to workflow management, to invoicing or accounting. All these processes are managed from a single, end-to-end platform ensuring seamless organization and preventing any lapses and omissions.
Automated workflows
Implementing a business management solution allows workflow automation. This means conducting a wide range of activities without human attendance, such as checking and duplicating sets of data, creating tasks and projects, producing invoices, managing leads and employee expenses, etc. Thus, business management software improves productivity and eliminates errors. Avoiding the manual performance of repetitive processes frees time that you can invest in more substantial and creative tasks.
Enhanced visibility
Business management software provides users with real-time information about every aspect of their organization. This includes sales and cost figures, inventory levels, and even 360 degree customer view including feedback. You can also easily see how your sales and marketing efforts are affecting your bottom line and whether you have enough cash on hand to cover expenses until the next payday. That's especially important in a small business, where there are rarely separate departments to keep track of all these aspects. This will allow you to make better-informed decisions, which in turn will help you grow your business more effectively.
Improved communication and collaboration
One of the biggest benefits of implementing business management software is that it improves communication between departments within your organization. This includes employees across offices as well as vendors who are working with you on projects or contracts. Business management software makes it easy to share information in real time including documents, spreadsheets, emails, calendar events, and more.
Scalability
Business management software is flexible and scalable enough to grow with your company. You can modify the system as your needs change, without having to start from scratch again.
Security
This is particularly important given the fact that small businesses are three times more likely to fall victims of cyber attacks than larger companies. The security features of business management software help protect sensitive data from unauthorized access and theft. This ensures that company information will remain confidential even if there's a breach in network security.
Better document storage and management
A good business management software will help you keep track of your documents with ease – from information about your customers and their transactions to employee handbooks, to policy manuals. You can store them in the database in the cloud and access them from anywhere, at any time. This is very helpful as it allows you to access your documents even when away from the office.
Cost effectiveness
Business management software can deliver significant savings on costs by reducing manual labor and streamlining processes. It also eliminates the need to pay for redundant systems and applications and centralizes all processes on a single platform.
Enhanced customer relations
Good customer relations are essential for any business to succeed. Business management software with a customer relationship management (CRM) feature enables you to keep track of all your customers' details easily. This makes it easier for you to establish and maintain personalized communication, which can lead to enhanced customer satisfaction and better sales figures.
Key features of business management software
Business management software is designed to help you manage your business more effectively. It allows you to streamline tasks, save time, and increase efficiency. The best business management software will also allow you to track employee performance, boost customer engagement and improve your bottom line.
Here are some of the key features to look for when choosing software:
Cash flow management
Budget management
Billing and invoicing
Reporting
Project tracking
Time and expense tracking
Customer relationship management
Team management
Resource management
Process automation and workflows
Order management
Note that sophisticated business management software like Caflou or Scoro covers project management processes as well. It will help you keep track of all your projects, tasks, and deadlines so that everything goes smoothly and efficiently.
Now that you know the name of the game, let's look at some business management solutions to choose from.
Best business management software
Here are our top picks that are well worth a closer look.
This is an all-in-one business management solution for small and medium companies that covers business, team, and project economics and dynamics combined with extensive cash-flow management functionalities.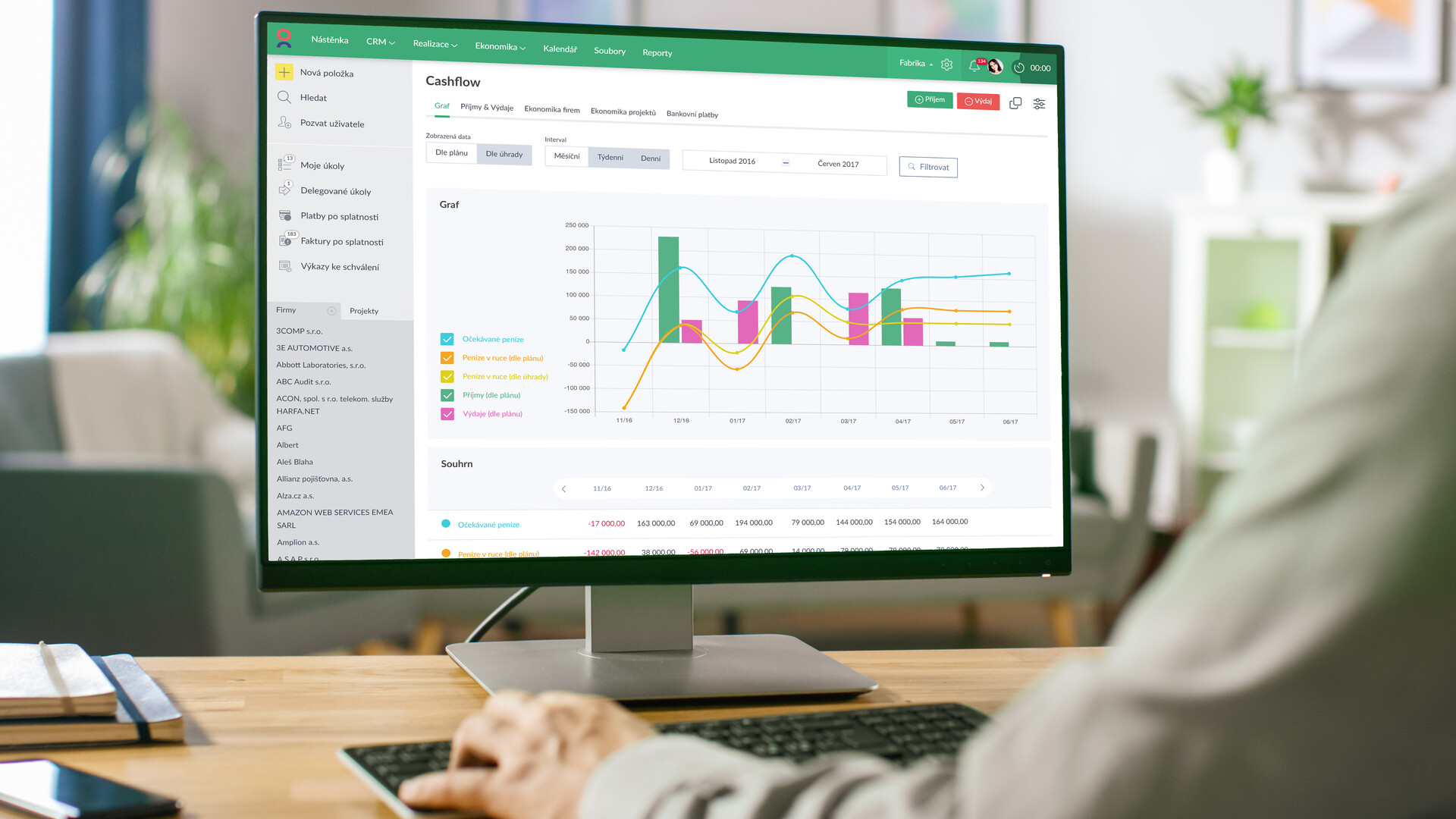 Caflou lets you manage business economy effectively
Caflou lets you:
Manage your company and team effectively
Plan and manage cash flows so that you know where your cash comes from and goes to
Manage your projects and business activities efficiently
Track and organize your on-site and remote team
Ensure transparency across your organization so that everyone knows what is assigned to them and when to complete their tasks
Enhance team communication through tasks, comments, mentions, and smart notifications
Make use of text and audio comments and video conferencing features
Create your own automation rules and automate repeated activities such as automatic alerts, tasks, or invoices
Caflou comes with an extensive range of functionalities
ProofHub
This is another end-to-end business management solution designed to facilitate work management and keep everything organized in one place. It allows:
Clear visualization of everyday tasks and seamless task management
Enhanced team collaboration
Effective time management
Convenient file storage and management
Progress tracking and reporting
This is a system that can replace up to six-seven individual apps.
Netsuite
It's a unified business management system that is particularly effective for fast-growing large companies and offers a wide range of functions and industry-specific support. Netsuite provides:
Cloud-based and mobile-enabled solution
Management of day-to-day business activities including supply chain operations, procurement, project management, accounting, risk management and compliance, etc.
Customizable and flexible features
Robust reporting functions
Netsuite is a solution that combines ERP, CRM, HR, Financials, and eCommerce in one platform.
Scoro
This is an all-in-one solution that brings teams, projects, reports, customer management, and sales together at a centralized place. Scoro offers:
Workflow planning and tracking
Managing unlimited number of projects
Accurate time tracking and billing
Quote setting, contact management, and invoicing
To sum up, business management software allows you to manage your entire business on a single platform – from hiring and employee onboarding to managing project and automating workflows, to invoicing and reporting.
Let's move on to the next important question…
What is project management software?
Project management software is a set of tools for project planning, execution, and control. It is designed to cater to the specific needs of project development and in line with the project management best practices and dominating modern trends.
So, project management solutions are used by project managers and team members to manage projects more effectively. They can track time spent on a project, or in more advanced systems project cost and revenue, allocate tasks, and coordinate with other team members.
Benefits of implementing project management software
Project management solutions can range from simple and easy-to-adopt tools with functions devoted to managing single projects to extremely complex systems featuring a wide set of functionalities including cost management. Whatever the particular case, there are many benefits to using project management software. Here are some of them:
Effortless planning and scheduling of project activities
Clear identification of roles and responsibilities in project development
Easy task assignment and management
Better communication among team members and simple file sharing
Increased visibility into project progress
Reduced administrative overhead
Improved productivity within the particular project
Key features of project management software
As we already mentioned, project management software can be built as a set of basic easy-to-use tools or as a sophisticated solution integrating a wider range of tools. Irrespective of the complexity, there are features that are common for most PM SW solutions:
Project planning/scheduling: This is the process of creating a timeline for each project and assigning resources to each task. Project management software can make this process easier by providing tools that allow you to create a detailed breakdown of your tasks and deadlines.
Reporting/project tracking: The ability to generate reports is one of the most important features of project management software. The reports generated by these systems allow you to see how far along your team is in completing their work, as well as how much time remains until each milestone is due. They also allow you to see where problems might arise based on past experience and how long it took to complete similar tasks in the past.
Time and expense tracking: Time tracking functionality allows users to log time spent on specific tasks, which is then tracked against the project budget.
Collaboration: Project management software makes it easy for multiple people to work on the same project at the same time. With real-time updates, you can see exactly what's happening across your team's work in one place.
Customizable templates: In order to save time and money, many companies prefer to use project management templates instead of building their own templates from scratch. These templates can be customized in order to suit the needs of your business or organization.
File sharing: A good project management app will allow users to upload files from their computers or mobile devices, access them from anywhere and share them with team members easily. Some programs even offer built-in chat features so that users can communicate with each other within the same app without having to switch between different programs or websites.
Task management: You can assign tasks to individual team members and break down larger projects into smaller ones that are easier to manage on an ongoing basis. This feature also lets you set deadlines for each task so everyone knows when they're supposed to be completed by.
Best project management software
Here are some examples of the best project management software of different complexity and range of features
Basic project management solutions
These software solutions come with simple functionalities to handle the management of low complexity projects. Our top picks in this category are Trello and Basecamp. Both options are extremely easy to adopt and use and are great for managing straightforward, simple projects.
The clear visualization of tasks, customization, and collaboration functionalities make Trello an excellent choice for small teams looking to implement a simple project management tool. Basecamp is another suitable alternative due to the to-do lists and the collaboration and live-chat options.
Project management software with intermediate range of features
This category includes software that is easy to use but offers some extensive functionalities. We've picked Asana and Teamwork Projects as the best solutions. They are user-friendly tools that can easily handle the management of small and larger projects.
Asana is built around subtasks and tasks that can be assigned to teams or individuals. The tool enables the project manager and the team to communicate and keeps collaboration for each project easily located at a central position. Teamwork is a solution that is designed specifically to streamline time tracking, task management, and reporting, which are particularly important for project management.
Project management software with advanced capabilities and features
Among advanced project management solutions are options that offer extensive features like video conferencing, CRM, and budget tracking. Zoho Projects and Jira Software are best choices for larger teams that need to manage complex projects.
Zoho Projects comes with robust task management, automation, time-tracking, and reporting features. Jira, on the other hand, is particularly relevant to managing software development projects and offers bug tracking, agile management, and test management functionalities.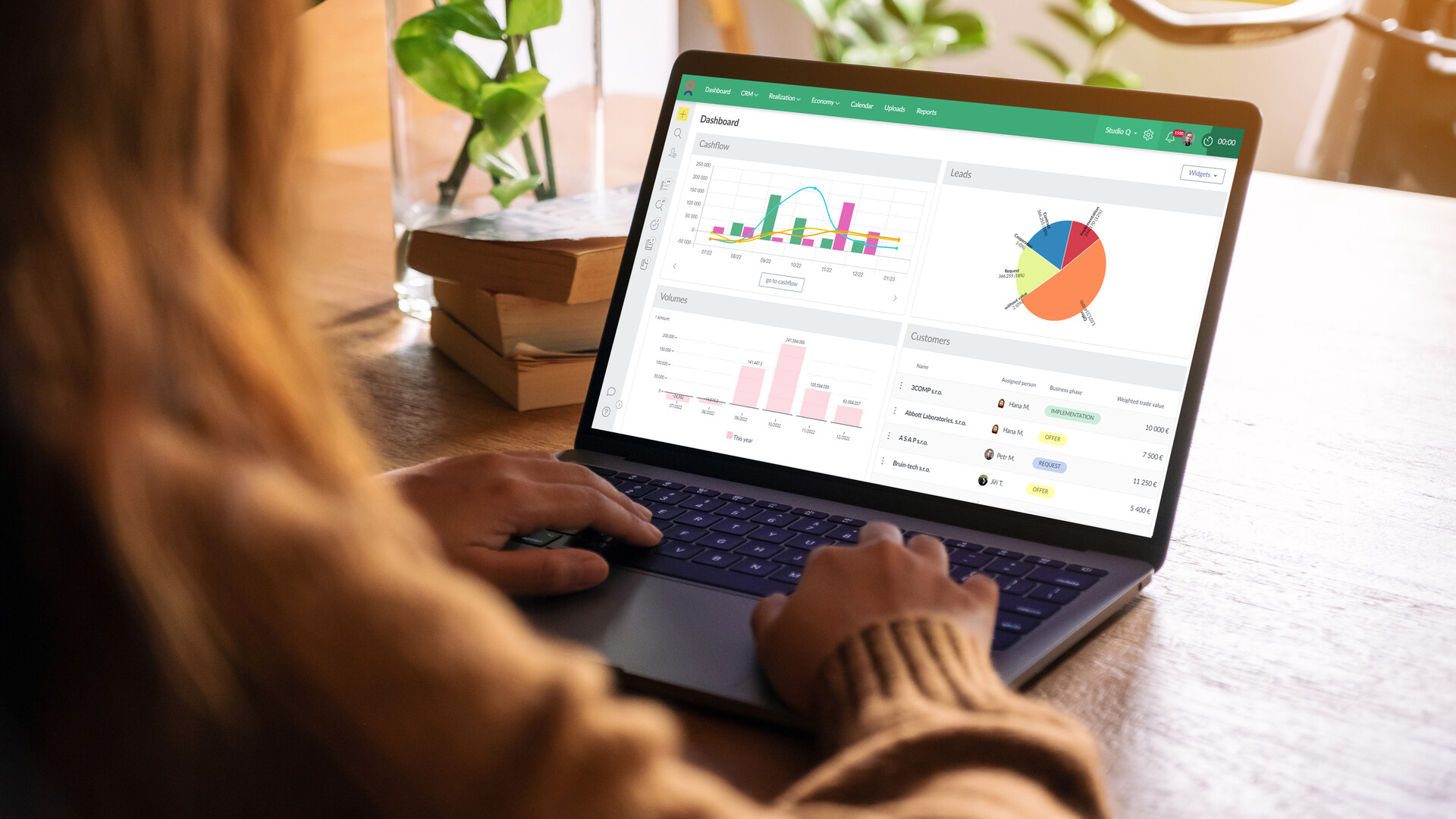 Take control of your projects and team and increase your company's profit with Caflou
The key differences between business management software and project management software
Having considered business and project management software individually, let's highlight the primary differences between the two.
Perspective
Business management is focused on managing a wide range of processes, handling complex workflows, and bringing all these processes together.
On the other hand, project management deals with project activities individually, concentrating primarily on the parameters of each project, including task planning and assigning, setting delivery dates, defining responsibilities within the particular project, etc..
Method of management
Business management is a continuous process that gives a holistic view of the whole company and encompasses the entire range of processes and operations. It focuses on enhancing overall productivity and efficiency.
Project management is temporary work that is completed when the project is completed. Project management programs aim to ensure the successful, cost-effective, and timely delivery of the particular project.
Outcomes
Project management software brings improved team collaboration, planning, and scheduling of project work, which is essential for successful project completion.
Implementing a business management solution that matches the specific needs of the company can give multiple advantages, such as:
Increased overall efficiency and productivity
Minimizing errors due to organizing and storing all data in one place
All-in-one system instead of using multiple tools, which will eliminate any compatibility and integration issues
Cost-effectiveness of implementing and paying for a single solution
Easier to learn by employees as compared to the need to operate with multiple tools
Customer satisfaction as a result of the streamlined operations and increased productivity
Conclusion: Which software should you choose?
To identify the solution that will work best for you, you have to answer some essential questions.
What do you need your solution to do? Which functionalities are relevant to your needs? What are the apps you're currently using?
If you need a single end-to-end platform to manage the whole organization and keep track of your clients, projects, expenses, and employees all in one place, you should opt for a business management system. The main benefit of using this type of software is that it:
Helps businesses save time by eliminating the need to use multiple apps and programs.
Keeps all data in one place, which means less errors transferring data between systems.
Makes it easier to teach employees to work with one system vs with multiple systems.
Allows automatic workflows between process categories.
On the other hand, project management software is the best fit for your business if you need to:
Manage specific projects or tasks within an organization.
Allow teams to collaborate on projects in real-time, share ideas, and communicate with each other across multiple platforms.
Manage simple projects, with no budgeting functionalities.
Simplify team communication.
If you're still not sure which option will best benefit your company, note that small business management software can combine the functionalities of both business management and project management solutions. Caflou offers an all-in-one platform to manage your entire organization while providing extensive tools to facilitate project management including its finances, and cash-flow management functionalities.
Need to make sure if Caflou will work for you? Take a test drive with our free Turtle plan to see how you can streamline managing your projects and your whole business.
<< Back to all articles in Caflou Business Management Academy