Did you know that one in five small businesses fail in the first year after being founded? According to the same study by the Bureau of Labor, only 30% of small businesses survive the first decade of their existence. The reasons for small business failure may vary, but inefficient planning and allocation of resources are generally considered among the top causes. This is where enterprise resource planning (ERP) steps in.
🎓 CAFLOU® academy is brought to you by CAFLOU® - 100% digital business management software
The crucial role of technology in helping companies overcome potential issues is commonly recognized. Providing small businesses with the tools they need to plan and manage their resources effectively, ERP solutions are growing in popularity and use. In 2023, the global ERP software market size is expected to increase by more than $20 billion, reaching $187.88 billion. This business solution offers excellent potential for both large enterprises and small companies. The key to taking full advantage of ERP is selecting the option that best suits your business needs and closely matches your industry and processes.
In this article, you'll learn why small companies should consider implementing an ERP system and how they can choose the best fit for them. We'll also discuss the industries that can best benefit from such software, so you can be sure it is the right way to go. Let's dive right in by answering the first fundamental question.
What is ERP?
Enterprise resource planning (ERP) is software designed to help companies of all sizes perform multiple business operations, such as accounting, finance, human resources, supply chain management, inventory management, sales, project management and customer relationship management. The figure below illustrates the various aspects and elements of ERP.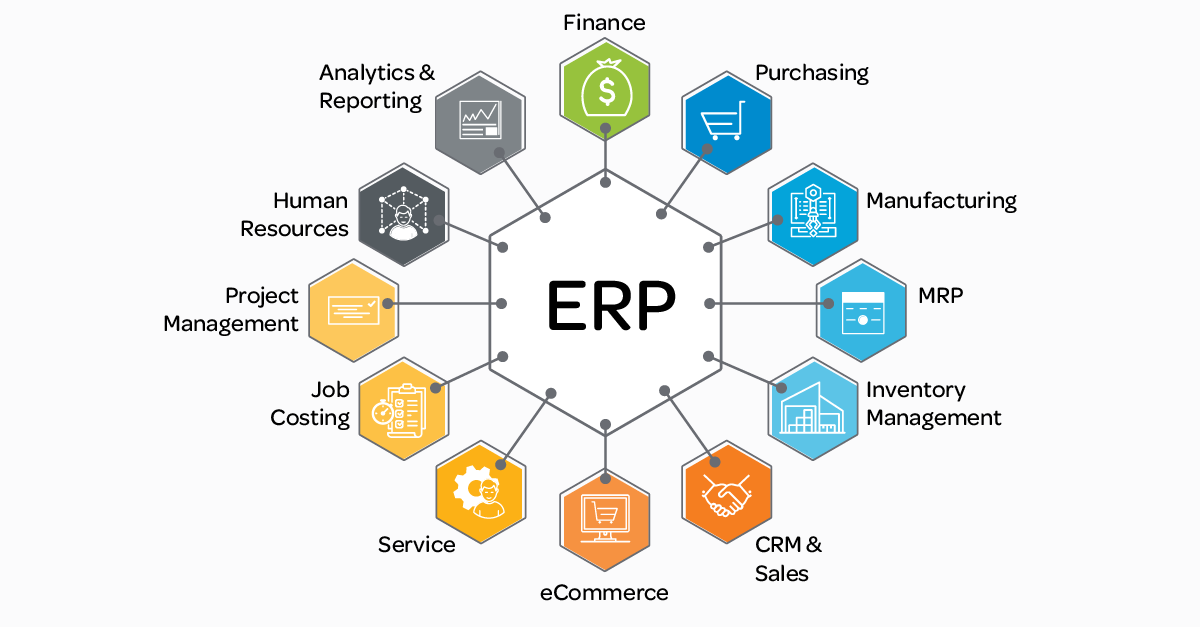 Image source: projectline
ERP solutions enable companies to manage and integrate all these processes into a common system and provide the clear organization of all data in a central location and easy access from anywhere. This brings various advantages. Among the most significant ones are improved communication, collaboration, and transparency across departments, resulting in streamlining the overall business performance.
Why do small businesses adopt ERP solutions?
It's a common misconception that only large businesses need an ERP system. In fact, no company is too small to utilize such a solution. Just on the contrary, the smaller the business, the greater the need to optimize the use of its lean resources, which is the main purpose of ERP. Let's look at the other purposes small companies follow and the benefits they get by implementing an ERP solution.
The purpose of ERP
ERP is essential for small companies that strive to streamline their operations and boost their efficiency, so they can gain a competitive edge over larger businesses with greater resources. What main purposes do ERP solutions serve?
Provide a centralized all-in-one system
ERP software integrates the management and execution of key business operations and processes. It also comes to embrace the management of all company resources, including people, materials, inventories, facilities, and finances. By providing a centralized database, ERP aims to streamline every aspect of a business – from managing teams and projects to inventory tracking to cash flow management.
Improve efficiency, accuracy, and decision-making
The centralization and integration of processes and data achieved with ERP serve to reduce data duplication, eliminate manual data entry, and increase efficiency. With the information accessible to the relevant employees and departments, it's easier to avoid inconsistencies and errors. In addition, the availability of real-time insights aims to improve the decision-making process. Managers can quickly identify trends, spot potential issues, and make data-driven decisions, contributing to informed, timely, and more effective decision-making in general.
Provide everyone with real-time access to data
One of the main purposes of an ERP system is to provide a central database accessible to all employees anywhere and anytime. With up-to-date information at their fingertips, different departments, teams, and individual employees can collaborate more effectively and make sure that nobody is left behind.
Facilitate performance tracking and management
ERP software is designed to provide a comprehensive view of processes and operations. It facilitates tracking a huge variety of details, such as project milestones, costs, bottlenecks in completion, utilization of resources, customer acquisition costs, and customer retention rates.
For instance, an ERP system allows businesses to track employee productivity by analyzing completed tasks, time spent on projects, and overall performance. This information helps identify top-performing employees and areas where additional training and motivation may be needed.
What benefits does enterprise resource planning bring to small businesses?
Here are the advantages that come with implementing an ERP solution for small businesses.
Improved efficiency and productivity due to the integration and automation of key business processes, which reduces manual labor and increases accuracy
Better decision-making as a result of real-time access to business data and analytics, allowing managers to make informed decisions
Enhanced collaboration due to the ability to access and share information in real time, improving communication and collaboration.
Increased visibility, making it easier to track performance, identify areas for improvement, and respond quickly to changing business needs.
Cost savings due to reduced manual labor and improved accuracy of business processes, which translate into decreased operational costs
Scalability resulting from ERP flexibility and adaptability to changing business needs, which make it a scalable solution for growing organizations
Compliance with regulations and industry standards by providing automated compliance reporting and detailed audit records
Improved customer satisfaction by allowing businesses to respond quickly to customer needs and provide better service
Competitive advantage thanks to streamlined operations and better use of resources
With all these multiple benefits making ERP a game changer for small businesses, it's time to find out if this is the right solution that will help you achieve your business goals, too.
Do you need ERP?
When it comes to implementing an ERP system, one question that arises is…
Who benefits from ERP most?
ERP systems are usually associated with large enterprises with complex operations, multiple departments, and high volumes of transactions. In this case, ERP solutions streamline communication and collaboration across departments and help management keep track of all operations, projects, teams, and other resources that have to be managed and properly allocated.
Other well-established users of resource planning software are manufacturers, construction companies, retailers, and practically every business that involves inventory management. These use cases of ERP systems involve improving production planning and scheduling, managing inventory levels, reducing production costs, and streamlining supply chain management. With real-time data and analytics, managers can make informed decisions and increase profitability and customer satisfaction.
However, ERP solutions offer various sets of features and functionalities designed to meet the specific needs of businesses of different industries, sizes, and sectors. So, small businesses and companies that operate without inventory are also viable users who can use an ERP solution to streamline their back-end processes like finances, human resources, procurement, and project management.
Some systems like SYSPRO are mainly focused on supply chain management and come with extensive capabilities intended for manufacturing. Solutions, such as Microsoft Dynamics 365 F&O, are designed with large enterprises in mind. On the other hand, business management systems like Caflou offer a combination of ERP functionalities providing project management, cash-flow planning and management, time management, CRM, and automation. Such options perfectly match the needs of small to medium-sized companies that don't keep and manage inventories or complex supply chains.
Let's take a closer look at the other examples of industries that benefit from ERP solutions.
Construction: Construction companies can use enterprise resource planning to manage project planning, scheduling, resource utilization and project cost management. With real-time data and analytics, businesses can optimize operations and reduce costs while also improving collaboration and communication across different teams.
Service-based businesses: ERP solutions can help service-based businesses manage customer data, track projects and time, and improve financial management. With integrated billing and invoicing, service businesses can ensure accurate and timely payment processing while also maintaining visibility into profitability and cash flow.
IT Services: IT services can use features like project management, financial and cash-flow management, time management, and automation to take full control over their operations, improve efficiency, and increase customer satisfaction.
Retail: Retail businesses use ERP to manage inventory levels, track sales, and streamline point-of-sale operations. With real-time data and analytics, retailers can make informed decisions on inventory management and product offerings, ultimately increasing profitability and customer satisfaction.
Marketing agencies: A marketing agency can use a solution such as Caflou to manage the entire portfolio of activities for each client, including business details, projects, tasks, invoicing, cost and cash flow management and much more.
Healthcare: A small business in the healthcare industry can use an ERP system to manage patient information and appointments, streamline the patient experience, and improve communication between healthcare providers and patients.
Professional services: ERP can help professional services firms manage projects, track time and expenses, and automate billing and invoicing. Firms can optimize resource utilization and profitability with real-time data and analytics while maintaining high-quality service delivery.
Overall, ERP solutions can benefit a wide range of businesses across different industries, helping them streamline operations, manage and reduce costs, and increase profitability. The key is to find an ERP solution that meets the specific needs of your business and integrates seamlessly with your existing technology and processes.
Who doesn't need ERP (and why)
Micro companies with extremely low volumes of daily operations may not find ERP a good fit for their needs. In this case, they may prefer more lightweight and agile solutions that don't require the same level of complexity and robustness as ERP systems.
Other scenarios where businesses may not need an ERP system are:
Very small companies with limited budgets may not be able to afford the upfront costs and ongoing expenses associated with the software.
Companies with decentralized operations. In this scenario, it may be more practical to use separate software systems that are tailored to the specific needs of each location.
What should you look for in an ERP system?
Implementing an ERP system can be a significant investment for any business, which makes it crucial to identify the essential features that align with your organizational goals and streamline your operations. Here's what to consider.
Key features of ERP
Let's discuss the key features a modern ERP system offers to companies that operate without inventories and warehouses.
Automation
One of the primary features of an ERP system is automating processes that are manual, repetitive, and time-consuming, freeing up staff to focus on other high-value tasks. For example, the ERP functionalities of business management systems, like Caflou, come with project management and cash flow management. These capabilities enable users to automate workflows, task creation, assigning, and notification and streamline handling incoming and outgoing cash, thus avoiding the common mistakes of dealing with these operations manually.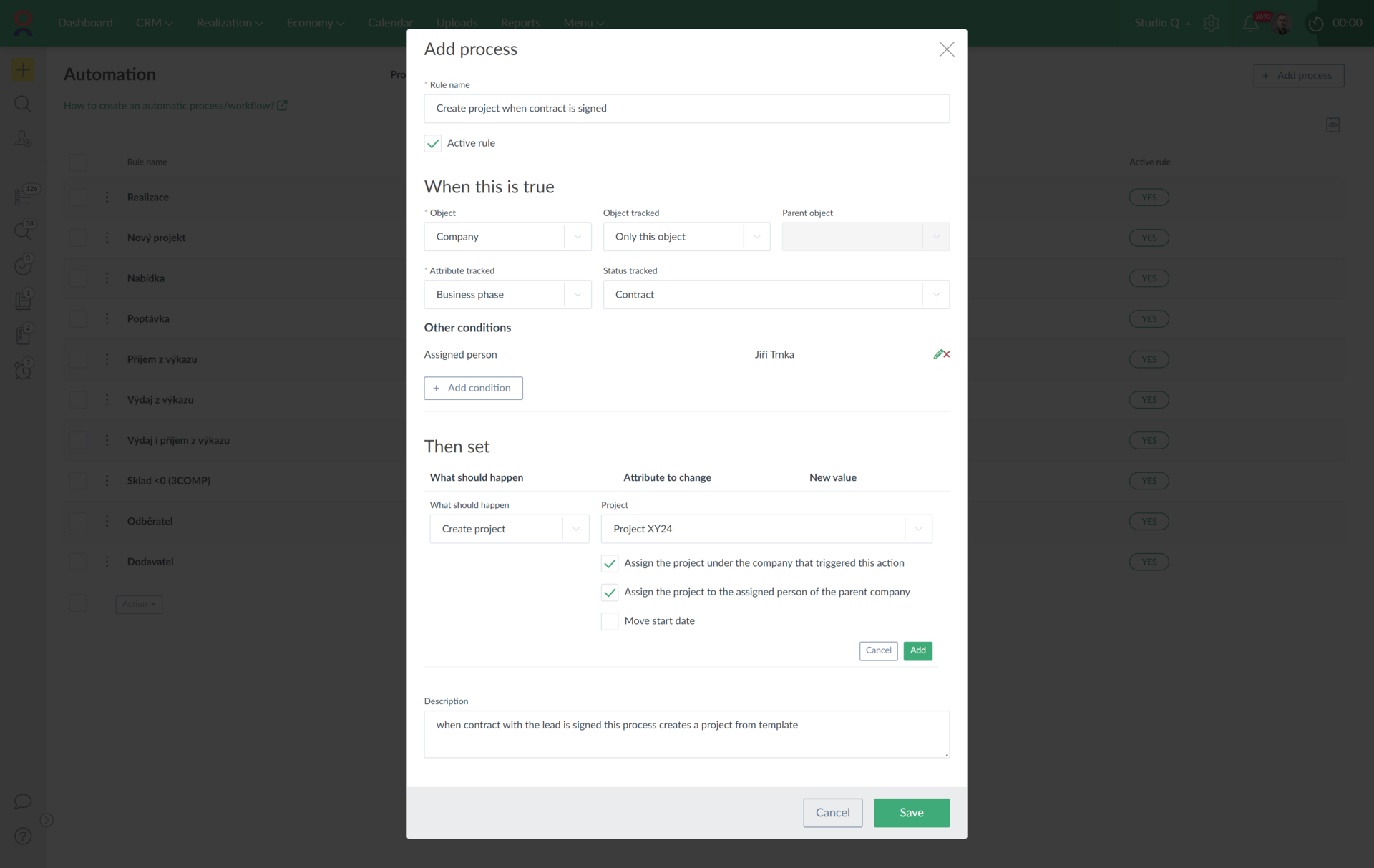 Caflou allows you to easily set up your own automatic business processes and create projects or tasks from ready-to-use templates
The automated processes provided by ERP help increase productivity and efficiency while eliminating errors and delays.
Real-time data management and operations
ERP systems provide a centralized database that enables companies to access real-time data on business operations – from accounting information to customer-related data to project details and employee performance. For instance, you can track, store, and analyze financial data related to various accounting processes. This also includes accounts payable, accounts receivable, general ledger, forecasting, and budgeting.
Reporting
ERP software comes with robust reporting functionalities enabling users to benefit from having valuable insights conveniently and accurately presented.
Using Caflou's reporting and analytics tools, for example, you can create a customized dashboard that displays key sales KPIs such as the number of leads, completed projects, and revenue per customer. The dashboard can also include visual representations of the data, such as charts and graphs, to make it easier to spot trends and anomalies.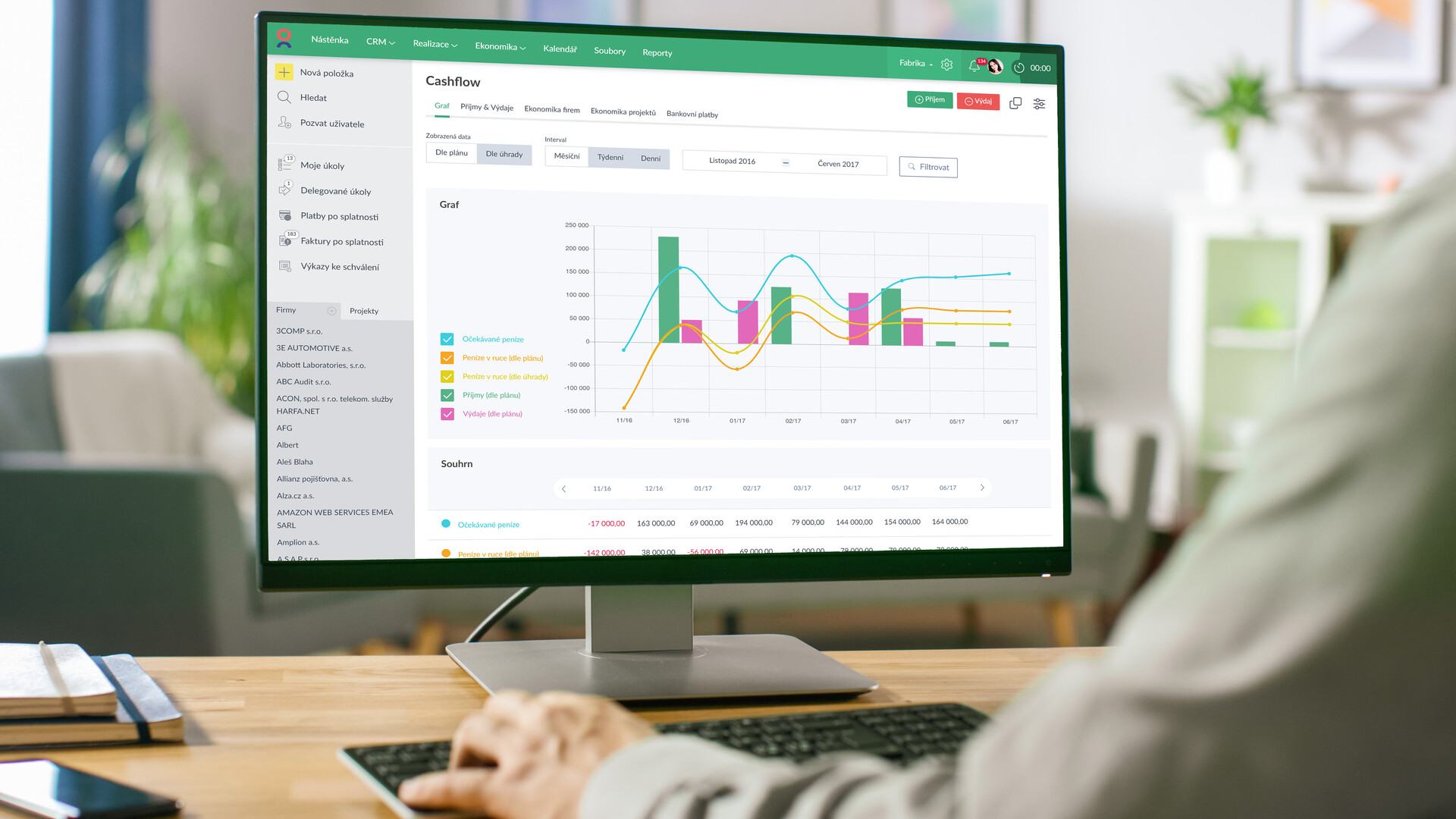 The extensive reporting functionality of Caflou provides a clear view of every aspect and detail of business management, allowing users to compare planned with actual values and take effective measures in case of inconsistency
You can set up alerts to notify you when a particular KPI falls outside of a predetermined range. This will allow you to take action quickly to address any issues.
CRM
Another essential feature to look for in an ERP solution is Customer Relationship Management. It's an essential tool that offers a range of features designed to help you organize customer data, work with potential customers, manage sales, and provide better customer support.
Contact management is one of the primary features of CRM that allows you to keep track of customer information and interactions in a centralized database. Other key features of CRM include sales management, analytics and reporting, and customer service tools, which provide valuable insights into customer behavior and help you make data-driven decisions.
Company-wide accountability
Improved transparency and reporting bring about the possibility of tracking team and project economy and knowing exactly how much time, effort, and money are invested at each stage of project development and by each employee.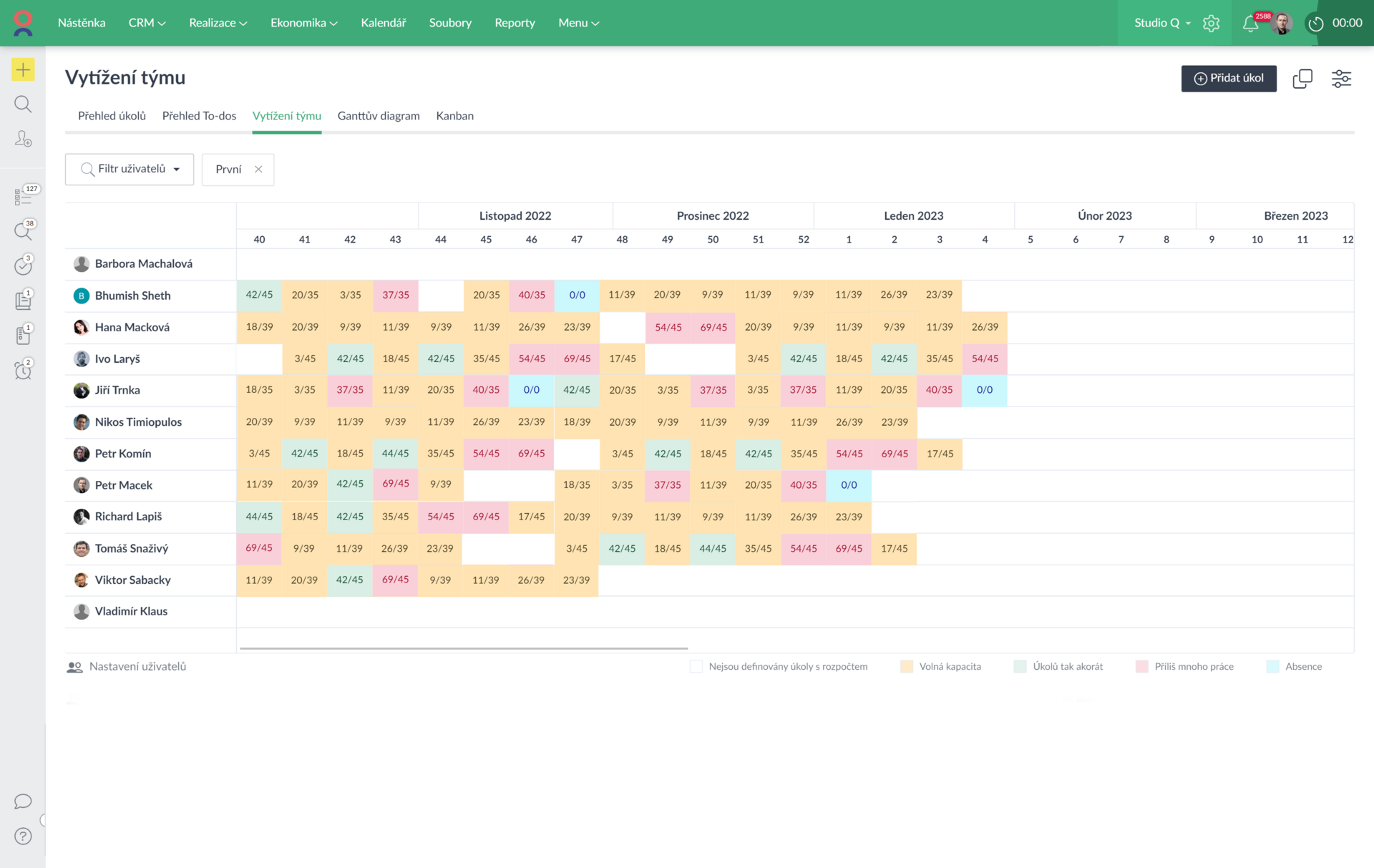 The team's economic report allows users to keep track of the revenue generated by each employee or team of the organization
Company-wide accountability gives a clear view of every employee's responsibilities and progress while keeping track of the work done and the revenue generated. Equipped with this information, management can enhance the overall efficiency and profitability of the company by boosting employee productivity.
Now that you know the mandatory features your ERP solution should offer, the question is if it can get any better, which brings us to the next section.
Bonus features of ERP
Let's look at the extra capabilities and opportunities ERP software can bring to small businesses across industries.
Integrations
Integrations are another critical consideration when choosing an enterprise resource planning system. Ensure that the ERP solution you opt for can seamlessly integrate with other tools and systems you use, such as your invoicing and payment solutions, e-commerce software, calendars, e-mail, and any other tools you've already implemented. This eliminates the need for manual data transfer and reduces the risk of errors.
Workload management
Managing employees and their workload is a key focus of ERP as employees are the most valuable asset and resource of a business. Calflou, for instance, allows you to track performance, deliverables, and time spent on work – the video below illustrates how this works.
With the workload reports, management can monitor the number of working hours of every employee, which gives clear visibility of the workload distribution among the team members. This means that you know who is available and who is already working on a task at all times, which streamlines task assignment and fosters equal loading of every employee. The latter, in turn, promotes a company culture of equity and motivates the team.
Mobile access
With the rise of mobile devices, it has become increasingly important for ERP systems to have mobile access for employees who are frequently on the go, such as sales representatives or field technicians.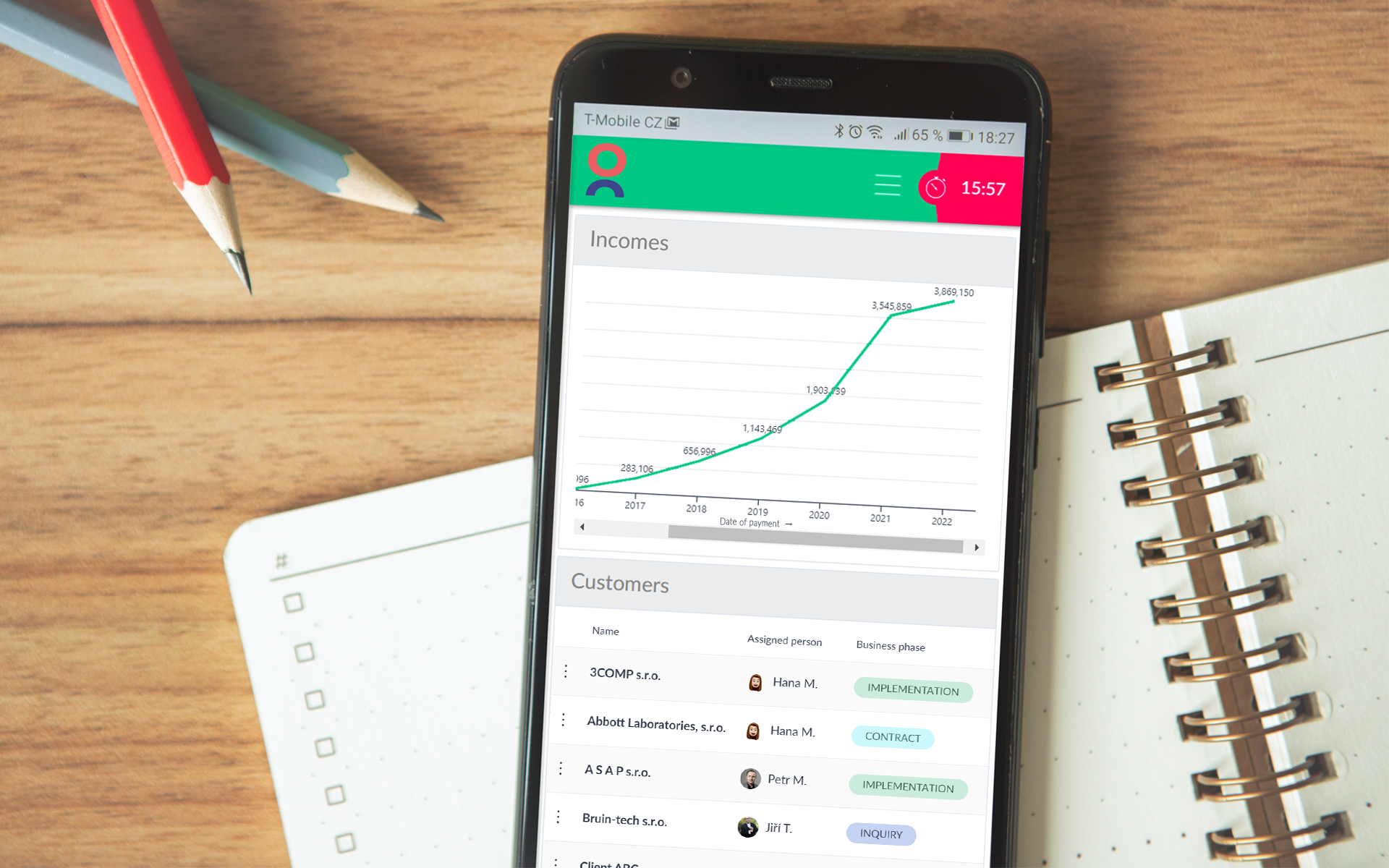 Caflou offers a user-friendly and convenient mobile app that will allow users to manage and track resources on the go
The state-of-the-art solutions available on the market come with mobile apps that allow users to access the information they need from their mobile devices without being tied to a desktop computer.
Final thoughts: ERP now and tomorrow
Traditionally associated with manufacturing, distribution, and retail giants, ERP software has already gone above and beyond being a solution for complex warehouse, stocking, and supply chain operations only. It's now part of the business management systems of companies of all sizes operating in all industries. What's the current state of enterprise resource planning, and what does the future hold?
Unlike the traditional ERP systems in the past, which were on-premise, modern options come as cloud-based SaaS solutions. This means that you benefit from their scalability and pay-as-you-go principle. So, you use only the functionalities you need at every stage of your business growth without investing in advanced features you don't actually need. Businesses can opt for different capabilities depending on the particular niche and type of processes and products.
Implementing a full-fledged business management solution enables users to bring together the full range of processes and operations – from project management and team management to managing resources and cash flows to customer relationship management. With all these processes integrated and managed from one platform, you will ensure the most effective use of all resources and assets you have. By getting a comprehensive view of all business operations in one common dashboard, you can be sure you won't miss a thing and will be able to make smarter data-driven decisions. Combining all processes in a single all-in-one platform empowers you with complete visibility and control over all operations in your organization, which ultimately increases productivity and profitability.

<< Back to all articles in Caflou Business Management Academy