There are many business management systems available in the market today. Selecting the best one is a big decision that can affect your entire business for many years to come. So, it's important that you choose the right system for your needs and budget. How can you navigate the crowded business management software market and keep up with the latest business management trends? In this article, you'll find effective tips to make the right decision and implement the solution that will work best for you.
🎓 Caflou academy is brought to you by Caflou - 100% digital business management software
The Global Business Management Software Market 2021-2025 report analyses the business management software market and expects it to grow by $160.64 billion during the five-year period. The market is forecasted to expand at a compound annual growth rate (CAGR) of 9.65% between 2021 and 2025.
Another report points to a global business software and services market size of $429.59 billion in 2021 and expected expansion across industries.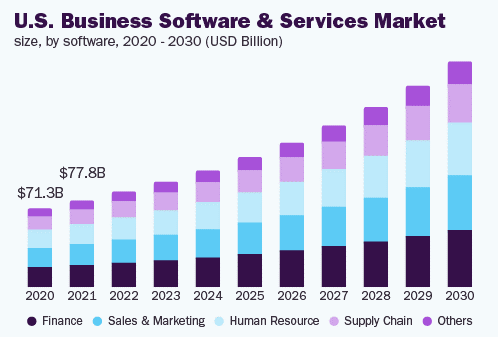 The ever-increasing market means more diversified systems, features, and offerings. Knowing what to look for in a business management solution will help identify the option that best matches your business needs.
Let's get started by discussing the fundamental question.
Why use a business management system?
Irrespective of the size of your business, there is no doubt that a business management system can be a powerful tool to improve or even automate your business processes and operations. An all-in-one business management solution can give small and medium-sized businesses a competitive edge and help them maximize employee productivity. With large enterprises, business management software is vital for gaining visibility across the whole organization and keeping large-scale teams and operations organized.
Here are just a few of the reasons why both small businesses and large corporations should adopt a business management solution:
Streamlining all aspects of business operations and processes including project work, sales, marketing, human resources (HR), accounting, finances, and other operational functions
Eliminating human errors by automating repetitive tasks such as entering data into spreadsheets or manually processing invoices
Improved productivity by freeing you and your team from mundane tasks and letting you focus on more essential and higher-value activities
Easier collaboration by sharing relevant information at any time throughout the process.
Time efficiency by having all information at your fingertips and automating time-consuming processes
Cost-effectiveness by eliminating the need to invest in separate software packages and allowing for greater control over your company's finances and keeping track of revenues and expenses.
Now that you have a better idea of the reasons to adopt a business management solution, let's look at the features it should come with.
What to look for in a business management system
When you're looking to implement a business management system and tools, there are aspects and functionalities that you need to consider before making your choice. Here are the basic features a viable business management solution should offer.
Automation
Automation is one of the most important advantages a business management solution brings. It helps streamline processes, save time, and reduce the workload on employees by automating repetitive tasks. Also, automation is instrumental in improving the efficiency, accuracy, and security of business operations. The findings revealed in the 2020 Salesforce report are indicative. Close to three-quarters of IT and engineering leaders report time savings of between 11 and 50% of the time that employees previously spent on manual processes, and more than half say that automation has reduced costs by 11 - 50%.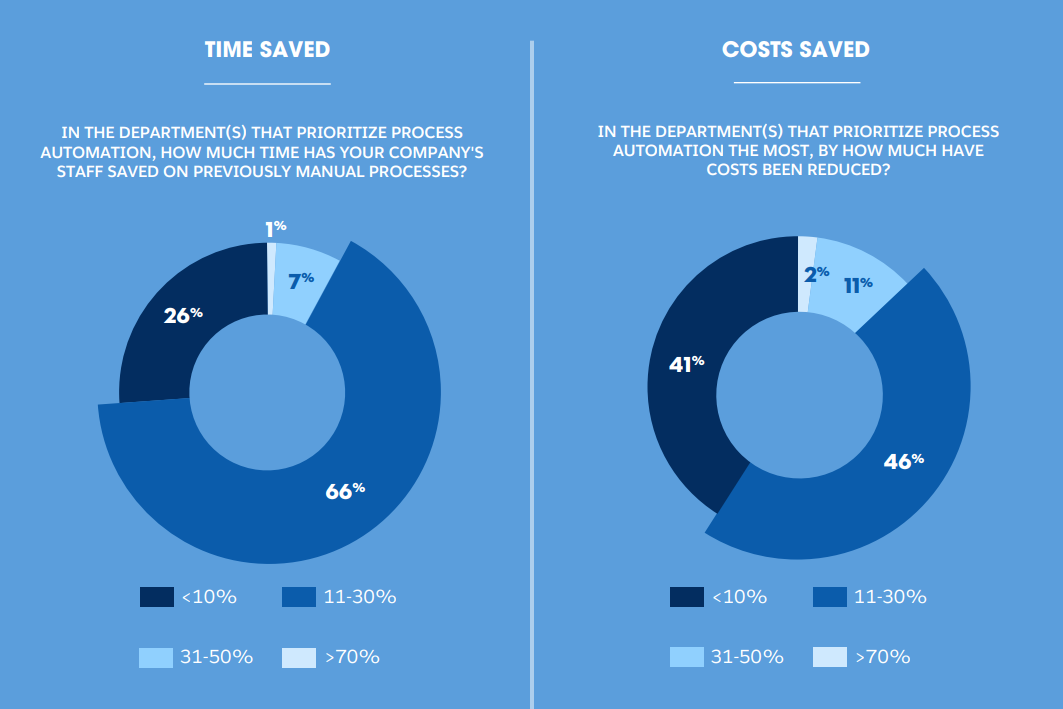 Automation results in considerable time and cost savings
Image Source
Automated processes can increase productivity and make employees more efficient in their day-to-day activities. For example, with Caflou, you can set conditions whose fulfillment initiates a particular action carried out by the software. Thus, if an employee needs to update the status of the tasks they're working on, move it to the next stage, reassign to the right colleague, and notify all other team members involved, the software can take over all these functions (and much more). This will save valuable time and ensure that no change is left unmarked and no team member is uninformed. Are you curious to know how it works? See the video below to learn how you can create an automated workflow or process.
Cloud data storage
Cloud data storage is an important feature that every business owner should look for in a business management system. A cloud-based solution allows you to store all of your information in one place safely and securely. This is critical for keeping up with current trends and making sure that everyone (with the required user access) can access the information they need anytime and anywhere via any device connected to the Internet.
Opting for a cloud business management system also eliminates errors caused when migrating data between systems or when manually moving data from one system to another. In addition, it can come with scalability that enables your software to grow with your business requirements as they change over time, without affecting its performance or functionality.
Task management
The ability to organize tasks by priority level, assign them out among different people on staff, and monitor progress on those tasks over time is the most basic and important feature of any business and project management software. It allows you to create tasks, organize them by priority level or type, assign them to team members, track their progress, and monitor the status of each task until completion.
Some task managers also come with a feature allowing you to create a checklist for each task so that you can keep track of things like sub-tasks, dependencies, and deadlines.
Project management
Most companies work on projects, both internal and external. This means that the ability to successfully manage large-scale activities, such as projects, from one consolidated system is key for overall business performance and efficiency. What's more, with an end-to-end business management platform, projects are aligned with other processes, like CRM, task management, workload management, time tracking, invoicing, or cash flow.
A business management system that is worth considering has a user-friendly interface that facilitates keeping track of all aspects and parameters of project development. Intuitive business management systems offer easy-to-use Kanban boards, Gantt charts, or table views for clear visualization of projects, budgets, task assignments, status, and progress.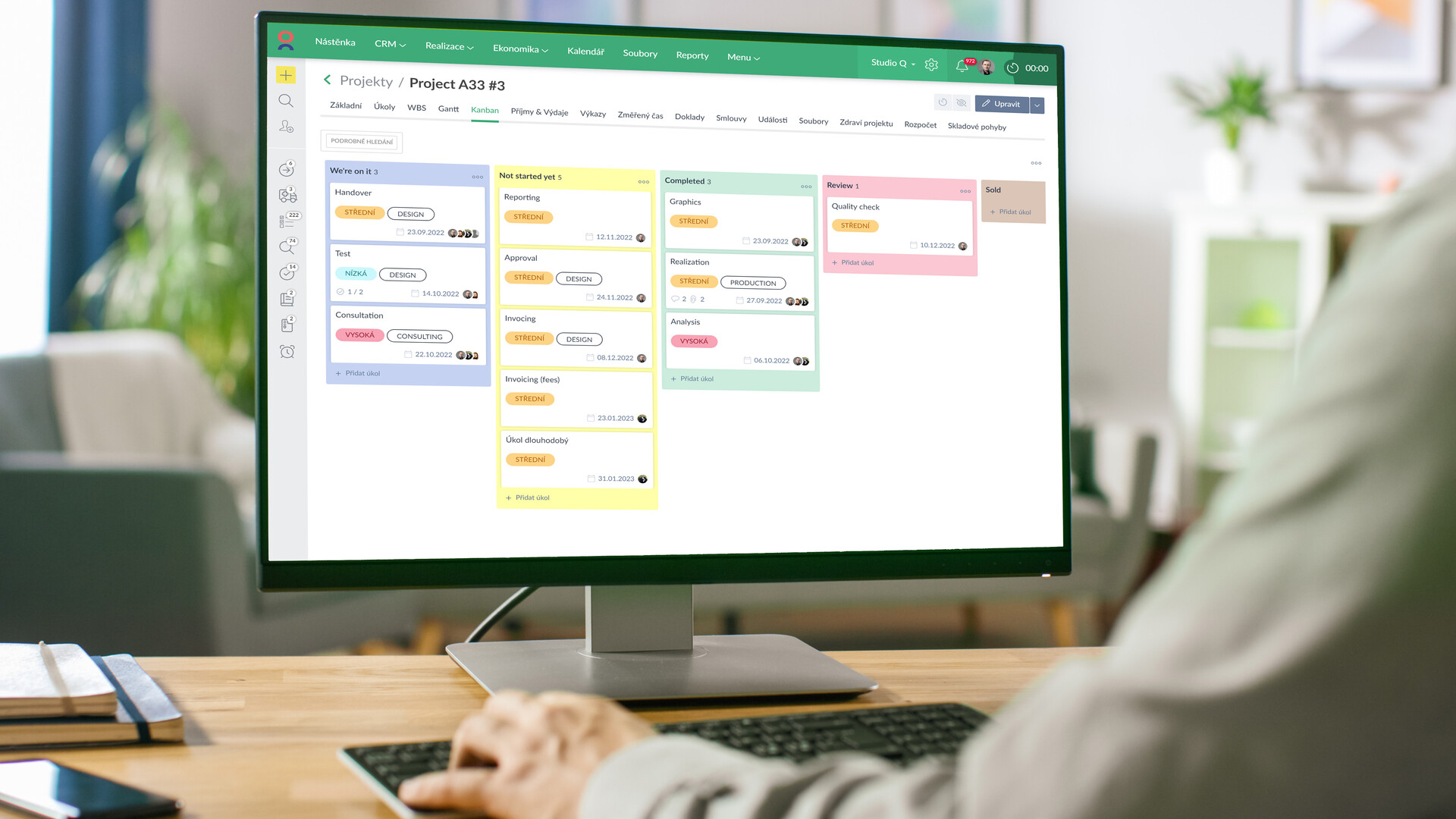 A modern business management system provides clear visualization of tasks, team members assigned with them, updates, relevant messages, important dates, deadlines, and budgets
With the most flexible systems, you can even create unlimited custom variant Kanban boards that best match the type of project you're developing. If you're wondering how this feature works, simply take a few moments to see the video below.
CRM
Customer Relationship Management (CRM) is an important part of any business management system because it helps you keep track of all your customers' information and interactions with your company. You'll want a CRM that allows you to store customer data securely and easily access it whenever necessary.
When CRM is aligned with other processes like project management, invoicing, contract management and cash flow in an all-embracing business management platform, you can see your customers from a 360° perspective. In addition, integrating all these processes with automation can streamline your customer support and relation activities by introducing automated workflows, task/ticket assignment, custom automation rule creation, invoice generation, or sending email automation.
Workload management
Workload management is another important feature of business management systems that relates to planning and assigning work in line with employees' capacity. It also includes the ability to review past employee utilization and performance. This will help enhance visibility in your organization so that everybody can see what is done, when, by whom, and with how much effort.
A dedicated solution can come with a workload report feature that allows you to track your team's availability and capacity at all times, both currently and historically. Here's how you can use it to track your team capacity:
Having gained a more precise idea of the aspects and features to consider, it's time to discuss some effective tactics to choose your business management solution.
9 Tips to select the most appropriate small business software
How can you identify the solution that works best for you? Make sure that the company behind the software is reputable and stable and offers good customer service by going through any company details and user reviews you can find. Also, price should always be an important factor when choosing any type of software solution for your business.
Let's look at nine tested tips for selecting the right software.
Identify your needs
What do you need your system to do? What does your team need? What reports do you need to produce? Answering these questions will help narrow down the field of options and give you an idea of where to start looking.
Look at ease of adoption and use
Next, consider how easy it is for users to get up and running with the software. Does the solution have an intuitive user-friendly interface that helps employees easily understand how it works? Is there training available? Are there online resources or support teams that can help answer questions as they arise?
These things may not seem important at first glance, but they can make all the difference in whether employees adopt new technologies enthusiastically or avoid them like the plague. Great business management software comes with a dedicated resource page like Caflou's Academy, where users can find helpful tutorials and educational videos, training and online events, and useful articles organized in topical sections (Business management, Cash flow management, Project management, and Remote management).
Opt for a solution that allows finance management features
More advanced business management systems come with finance management features, such as cash flow management, profit/loss reporting, and project budgets and profitability. This will help you keep track of your finances and make sure you don't go over budget.
The integration of a cash flow management feature allows you to track incoming and outgoing cash. This is one of the aspects of effective project cost management.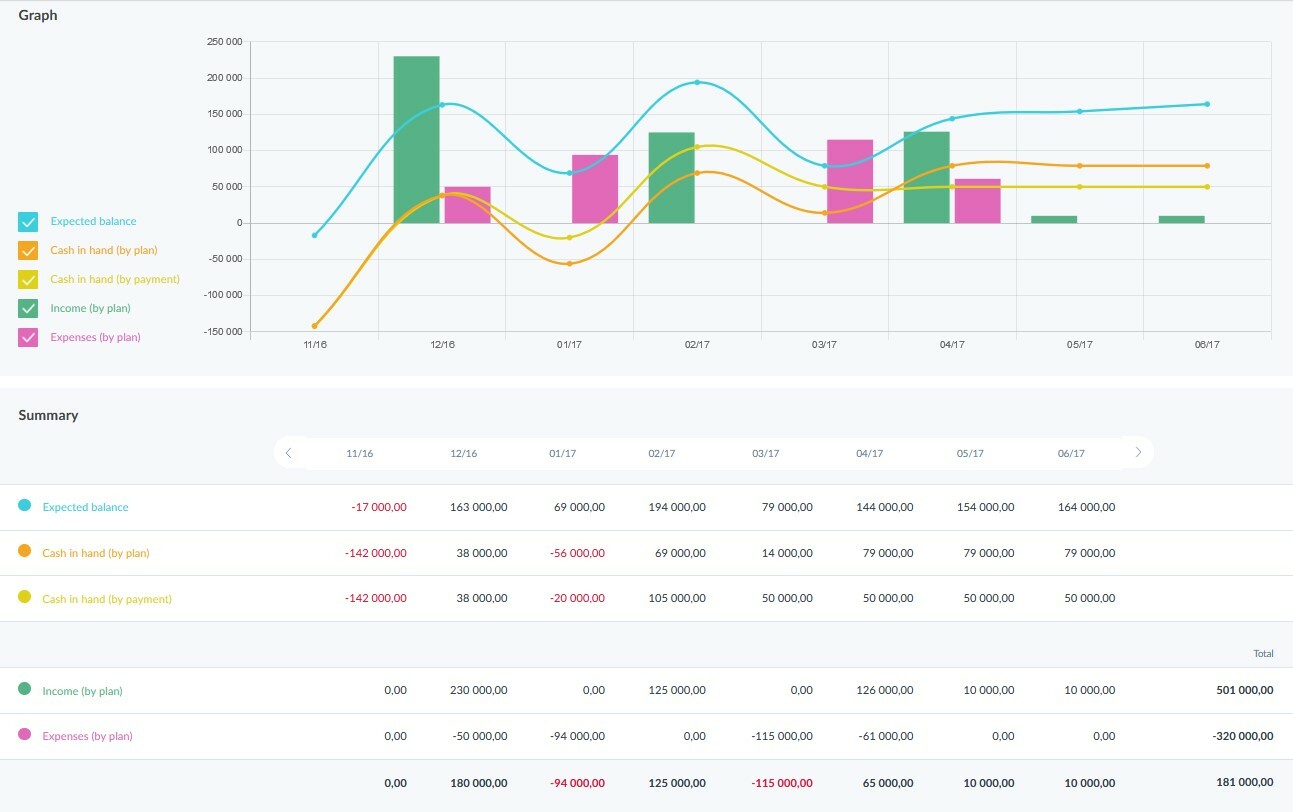 Caflou's small business management software provides enhanced transparency and visibility of planned and actual income, expenses, and balance
Implementing a business management solution with financial functionalities lets you monitor your business cash flows, plan your expenses and balance, and stay on budget, avoiding the common mistakes businesses tend to make.
Make sure your small business management solution integrates with other systems and software
This way, you won't have to worry about data getting lost or your employees having to deal with multiple systems. Nowadays, there are various simple tools that let you easily connect unintegrated systems and set up automation of mundane tasks across different platforms. Examples of such tools are Make and Zapier, which match the requirements of small-to-medium-sized businesses.
For example, Caflou offers integrations with Make, which you can use in case you need advanced automation options.
Select a plan in line with your budget
You'll want to find something that gives you everything you need without breaking the bank. The first step is to decide how much money you can invest in the business management solution. There are different pricing models and options available, so you can select the one that fits within your budget constraints.
While it's tempting to go for something more expensive upfront, this will only end up costing you more money in the long run. A good rule of thumb is to determine which features you must have before considering any extra features or upgrades. This approach will help you resist the temptation of additional bells and whistles that may not be necessary for your business needs (at least not yet).
And don't forget to think about the growth of your company and its headcount. Some tools may seem cheaper now but can become expensive as you grow, which brings us to the next point.
Opt for scalability
This means that your BMS should be able to grow with your business and not become obsolete as you expand. It should also have an easily maintained database structure so that it can grow and change with your needs without losing efficiency or performance.
As we already discussed, this is an advantage that a cloud-based solution brings. It translates into cost-effectiveness as you don't have to invest in hardware, software, tools, and storage you don't need at the moment. This makes such systems particularly suitable for small businesses, which tend to feature limited resources.
Make sure it has a mobile app
It will allow you to access it anywhere, anytime, and from any device. This way, you and your employees will be able to access all of your data without having to sit down in front of a computer, which is a great advantage for small businesses operating with lean teams.
An end-to-end system provides a mobile version offering extensive functionalities (all or most, not just a very limited subset). The example of Caflou's mobile app below developed for both iOS and Android illustrates the user-friendly interface and the large range of features available to the user.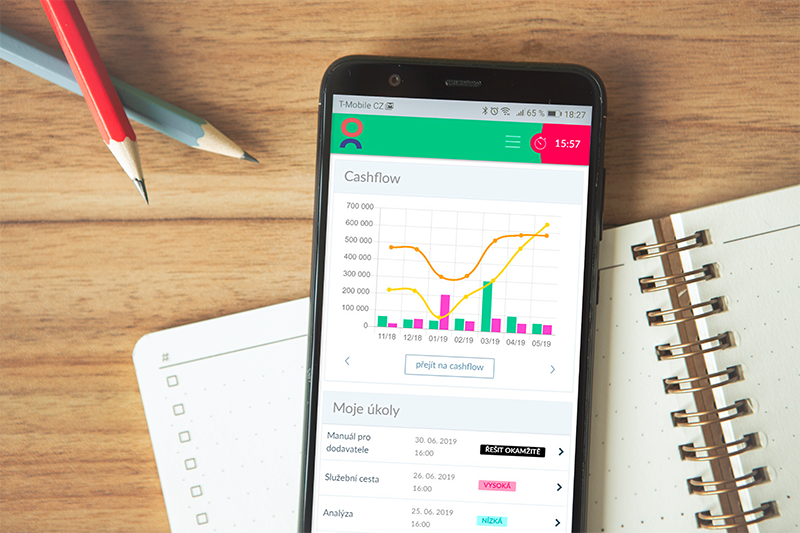 A full-fledged BMS comes with a convenient and user-friendly mobile app that offers extensive features
The availability of a mobile version of your business management system enables you and your employees to stay connected and responsive on the way, irrespective of current location and equipment. This is particularly important when it comes to managing hybrid and remote teams and operations.
Look for comprehensive reporting functions
A small business management system that is worth taking a closer look at provides reports and analytics that allow you to track the effectiveness of your operations, projects, and campaigns so that you can make adjustments over time if necessary.
Ideally, your business management software will provide you with valuable insights into your financial performance, project and task progress, employee capacity and utilization, and much more. What's more, an advanced solution enables you to create custom graphical reports and set various criteria for aggregating and sorting data. Learn how this feature works by seeing the following video.
Opt for integrated communication functions
The ability to provide communication built into your business software is a key feature to look for. Reliable and consistent communication enables you to ensure that all of your employees are on the same page and working towards the same goals.
A business management platform should offer email integration, notifications, and comments. It can even offer an integrated video-conferencing option. Bringing management processes and outstanding communication in one place boosts effectiveness and productivity.
Time to select the best business management solution for your needs
As a small business owner, you have a lot to worry about and keep track of. It can be quite challenging for you to manage all the aspects of your business. This is where a business management solution can save the day and give you a competitive advantage over other companies in your niche.
It's not easy to select the right business management system. There are many different systems available, each with its own benefits and drawbacks. To avoid making this vital decision blindfolded, follow the tips above and opt for software that offers functionalities corresponding to your needs and goals. Keep in mind that a full-featured solution, such as Caflou, can go a long way in improving your operations, efficiency, and overall performance by bringing all processes together in a single unified platform.
<< Back to all articles in Caflou Business Management Academy